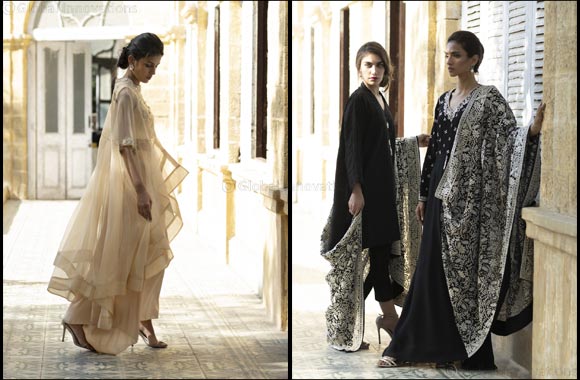 Dubai, United Arab Emirates - October 07, 2019: Look and feel amazing this Diwali with a range of sensational ready-to-wear and occasion wear ensembles from the renowned Indian fashion labels including Misha Lakhani, Amit Aggarwal and Payal Singhal at The Rack by Kachins.

A fashion destination spreading across more than 8000 sq.ft, The Rack by Kachins is situated in Al Wasl Road, opposite Box Park, housing internationally acclaimed and celebrity favourite designers. Having launched Payal Singha's 20th Anniversary Collection in September, including welcoming the designer herself, The Rack provides a luxurious and relaxing shopping experience for all.

Whether looking for a more traditional outfit or a more modern interpretation of ethnic themes, The Rack has a vast range of various styles, fabrics and sizes to make everyone feel spectacular.

A Diwali-must designer is always Payal Singhal, with her reimagination of Indian evening wear; revisiting tradition and historical references with a global perspective. Singhal has worked extensively with georgette and organza to create soft, structured looks while innovating with the silhouettes—think jacket cholis, lehenga salwars, bomber jackets and deconstructed blazers alongside signatures such as drop crotch pants, cropped skirts, saris and co-ord sets.

Misha Lakhani brings an artistic touch to her creations with motifs that have a hallucinogenic quality. Crafted with utter precision and offering a wide range of variety in not just the highest quality hand-woven fabrics, but also the silhouettes, cuts, prints and styles. Expect easy silhouettes, tactile embroideries and porous fabrics with refined embellishments that make for romantic contemplations and holiday celebrations.

Amit Aggarwal, the high fashion couture designer, based in New Delhi, India provides futuristic and structured collection. Curvilinear in form, the garments are sharp in detail, with the silhouettes boasting a blend of control and freedom. Amit Aggarwal's couture gowns made with metallic details that shine in crystalline linear patterns and embroidery that flows into geometric patterns are a source of beauty and vibrancy that flows infinitely.
This season, make the Rack by Kachins your one-stop destination for all your occasion wear needs, from renowned designer brands.