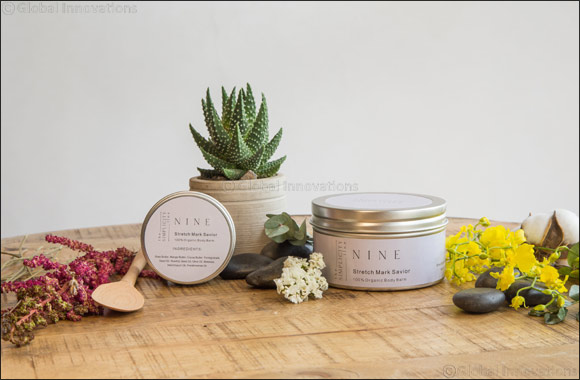 ** Hello, NINE, your Stretch Mark Savior! NINE is a unique balm blended with only nine 100% certified organic ingredients to nourish and support a mother's growing tummy throughout pregnancy and beyond **
Dubai, United Arab Emirates - September 23, 2019: Whether you are planning a family, are pregnant, or a new mum, taking care of yourself and your body is a priority that will pay dividends later. Nourishing and healing your body from the outside in is one way to help achieve this. The natural skincare brand, The Simplicity Line, are here to offer just that with the launch of their beautiful organic NINE Stretch Mark Savior that is set to become a true cult skincare savior for women across the globe.
The 100% organic body balm is named after the number of its ingredients. Free from toxins of any kind, NINE Stretch Mark Savior is blended using only the highest quality moisturizing, regenerating and anti-inflammatory ingredients. With each item being sourced from organic elements from around the world, you can be assured your body is being thoroughly nourished with the very best ingredients possible. Designed for everyday use, simply rub on tummy, hips, breasts, dry elbows and knees ideally after a bath or shower for optimum results.
The Ingredients
Shea, mango and cocoa butter work together to naturally moisturize and heal your skin whilst preventing and reducing the appearance of scars and stretchmarks. Packed with essential fatty acids, Vitamin A, B1, B2, B3, C, E, minerals and antioxidants, this mixture of butter will build elasticity and promote faster cell renewal. These butters have been used

for hundreds of years to plump and hydrate skin on contact, keeping your skin healthy and happy.
Known for its healing properties, Helichrysum bouquets were offered to the ancient Greek Gods. The lightly floral scented oil produced from Helichrysum flowers is a powerful anti- inflammatory that promotes cell regeneration and heals scar wounds. It strengthens and tones the skin, while promoting tissue and cell regeneration. Helichrysum oil will eliminate damaging free radicals, stimulating circulation and improving elasticity.
Timeless and restorative, the healing properties of Frankincense oil have been used for centuries to promote cell and tissue regeneration and rejuvenate the skin. Frankincense is also a natural antiseptic used to relieve stress, pain and inflammation, as well as boost the immune system.
Pomegranate seed oil is filled with anti-oxidants and skin protecting properties. This oil serves as both anti-inflammatory and moisturizer, increasing the thickness, elasticity and hydration of your skin. It is amazing for dry skin, thin skin, hyperpigmentation and scarring. Pomegranate seed oil promotes cell regeneration in the epidermis and increases circulation, all to prevent any tissue scarring that may occur during pregnancy.
Rosehip seed oil is known the world over to help reduce scars and fine lines. Rich in essential fatty acids and antioxidants, which are integral for tissue and cell regeneration in the skin, this oil not only prevents new stretch marks from forming but stops the progression of existing marks.
Olive oil has been used by Mediterranean women for centuries to keep their skin ageless and supple. This oil contains a glorious amount of Vitamin E, phytosterols and polyphenols that incite your skin to produce collagen.
Beeswax will allow your skin to absorb and lock in all the rich oils and butters NINE has to offer, while still allowing your skin to breathe. Beeswax is a natural humectant, attracting water molecules
The unique and healing balm deeply conditions the skin, locks in moisture, is long lasting and safe to use during all trimesters, and into motherhood and beyond. With no nasties and a blend of earth's finest butters and timeless oils, NINE Stretch Mark Savior promises to keep your skin moisturized and elastic in the nine month stretch and beyond.
Founder Karissa Stelma became invested in the power of natural ingredients when she was pregnant with her first daughter in 2010. Karissa experimented with her own formulas and after a personal and challenging journey of IVF in 2018, she truly took stock of exactly what was affecting her fertility as well as anything touching her skin. Karissa became attuned to the importance of ingredients and the impact they have of the journey of fertility – from the foods she ate to every product that touched her skin. It was this that inspired her to launch The Simplicity Line, to help other women who are concerned for their skin, their health and their fertility.
Nine Stretch Mark Savior is priced at AED130 for 100g, AED220 for 200g and AED300 for 300g and is available online at www.thesimplicityline.com. To find out more and to place an order please visit www.thesimplicityline.com. Keep up to date with the latest Simplicity Line news and happenings on social media @the_simplicity_line.