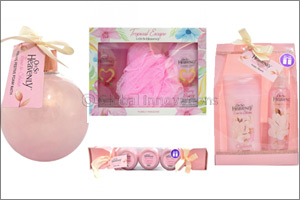 Dubai, UAE, November 15, 2018: Thinking about festive shopping for family and friends and gifts that are easy and memorable without having to make those long and numerous trips to a mall? Then think Glambeaute.com, because it's a one-stop online shop for every beauty and wellness need in the UAE, and you can put your festive shopping woes to rest here.
South African brand 'Oh So Heavenly' has released a variety of festive bath and body sets for you to choose for you loved ones. The sets include products for cleansing, scrubbing and moisturising which makes for a wholesome body care pack and also leaves you smelling like a dream.
Oh So Heavenly Tropical Escape Complete Care Pack (AED 29)
This fresh and berry smelling set is perfect for your loved ones that reach out for a fruity scent. Using its two-step body shower gel and body lotion will create a lasting scent leaving you smelling great all day long.
Oh So Heavenly Simple Pleasures Luxury Gift Set (AED 45)
With milk proteins and yogurt extract, this set is ideal to give to someone who not only wants to smell good but also cares for their skin health and wants to see great results.
Oh So Heavenly Lavender Luxury Gift Set (AED 45)
This lovely lavender smelling set comes with a beauty bar, body wash, and body lotion. Perfect for those that love lavender scents!
Oh So Heavenly Simple Pleasures Complete Care Pack (AED 29)
This set includes a body wash and body lotion, both products formulated to ensure healthy and moisturised looking skin. So if one of your loved ones are struggling with dry skin, you know what to surprise them with this holiday season.
Oh So Heavenly Lavender Luxury Complete Care Pack (AED 29)
The body wash is infused with Tuscan Lavender to gently cleanse your skin and the body lotion features three lavender oils for great skin. Your loved ones' skin will smell good and look even better!
Some other festive sets you can choose from:
Oh So Heavenly's "Time to shine" collection features three gift sets (AED 29 each) including Tinsel treats, Joyful Trio, Festive Feeling foam bath which make for great stocking stuffers this festive season.