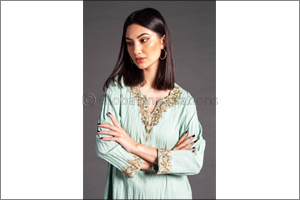 Modern Cultural Minimalism

Dubai, United Arab Emirates, March 23, 2020: To commemorate the Holy Month of Ramadan, Bahrain based fashion label Deema Ajlani presents a unique capsule collection inspired by the rich Arab culture of Saudi founder Deema Al Ajlani, fused with her depiction of the modern Middle Eastern woman.

Deema Ajlani fills a gap in the market for modest understated dresses and relaxed casual separates, embodying modern design through an intricate ensemble of threads, cuts, fabrics and cultural embellishments.
The Ramadan capsule is an amalgamation of two close yet very unique cultures: an ode to her Saudi Arabian roots and a tribute to her adopted home of Bahrain. Keeping in mind the seasonally sensitive aesthetic of Ramadan, the collection comprises a multitude of kaftan styles, with each design available in two lengths for both standard height and the more petite. This elegantly simple design consideration consequently means that no additional customer adjustments are needed, a common problem that Deema herself has often encountered as a modest dresser, and now one of the key elements she addresses in all of her pieces: accessibility and ease of wear.