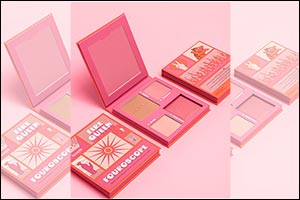 May 10, 2021: The long-awaited Eid break is right around the corner and you deserve to gift yourself one of the best brow days ever! Benefit Cosmetics has you covered with a perfect super quick and gorgeous brow look for you to rock all your Eid weekend fun and beyond.
Yara Ayoob, Benefit Cosmetics' Regional Brow Artist shares these easy tips to get you started on your Eid makeup:
Tip #1: Condition Your Brows
Your brow routine should always start with conditioning and treating.
Apply Benefit BrowVo! Conditioning Primer to nourish your brows with keratin and soy protein. This will also help to smooth the hairs on your brows and prime them for your next step. It also can be worn alone.
Tip #2: Add Structure to your Brows
Now, this is where you are going to add structure. Look for pencils that create hair like strokes, such as Precisely, My Brow Pencil, throughout the brow. Starting at the front of the brow, make subtle movements upward from the base of the brow toward the hairline. This will give you structure and help frame the eyes. As you move toward the arch and the end of the brow, start redirecting those strokes out toward the temple.
Tip #3: A fool proof approach to natural looking Brows
Foolproof Brow Powder instantly adheres to hair & skin making it super easy to apply quickly with no hard lines or mistakes. The velvety smooth powder's lighter-to-darker shade mimics the soft & gradual look of natural brows.
Sweep the lighter shade from the Start of your brow to your Arch with the included foolproof blending sponge. Then sweep the deeper shade from your Arch to the tail End of your brow.
Who doesn't love a great Cheek Palette?
Extra Tip #4: For Bold & Glam Cheeks!
Get your hands on Fouroscope Cheek Palette – Fire Goddess
Deep Berry Bronze Palette
• Hoola matte bronzer
• Starlette candy pink blush (mini)
• Soulstice berry blush
• Blaze peach-pink highlighter (mini)