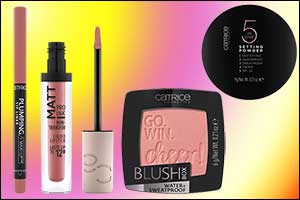 June 23, 2021: Special occasions like Eid require some of our favourite CATRICE products to keep with you on the go in your handbag throughout the day. Keep your makeup flawless at all times while you're out and about with your closest friends or family, and touch up your look to always have that perfect finish. Here are our top CATRICE picks that you need to keep in your handbag right now!
The 5 IN 1 SETTING POWDER is a high-performance powder that helps mattify your everyday look and set it in place. The vegan powder is perfect for on the go since it's waterproof, sweat-resistant and has a Sun Protection Factor of 10. This powder is great for on the go too, because it includes a mirror. The powder is colourless, making it suitable for all skin tones.

Define your beautiful lips with the vegan PLUMPING LIP LINER, which helps prevent your lipstick and lip gloss from running. The lip liner leaves a satin-matt finish perfect for an understated look! This product is smudge, transfer, and waterproof. It's an ultra-creamy texture with peppermint oil, and MAXI-LIP™ by Sederma keeps your lips plump, pouty and moisturized. The automatic lip liner also does not contain any microplastic particles. Touching up your lips on the go has never been easier with the integrated sharpener that ensures precise and fine lines.

The MATT PRO INK Non-TransferLiquid Lipstick is your best friend on long days like Eid because it lasts up to 12 hours. So whether you're having a big lunch or lots of coffee and dessert, the matt lipstick can handle every situation! The lipsticks light liquid texture makes it easy to apply on the lips and leaves a smooth matt finish once dried. It also contains moringa butter to keep your lips soft throughout the day. We suggest keeping two colours out of the ten shades in your handbag to transform your day look into a fun night look.

Add a pop of colour with the BLUSH BOX. This velvety powder blush comes in different shades and has a silky matt effect for a beautiful natural look. The blush is waterproof and sweat-resistant, making it perfect for a long day out since it's also long-lasting! Apply the vegan formulated product to your cheekbones, tip and bridge of your nose, and a bit on your forehead for that gorgeous healthy glow throughout the day.