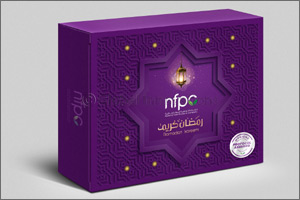 • UAE's largest beverage provider also supports nation's "10 Million Meals" Initiative, organized by Mohammad Bin Rashid Al Maktoum Global Initiatives
Dubai, United Arab Emirates, May 04, 2020: People across the UAE who wish to support families and individuals in need during the Holy Month of Ramadan can do so with the assistance of National Food Products Company (NFPC). The company's Oasis Direct division which provides home delivery services of water, beverages and dairy products throughout the UAE, is adding a special Ramadan Meal Box to its offering. Consumers can purchase ten or more of these boxes through the Oasis Direct website, www.oasisdirect.ae, following which NFPC's delivery fleet will deliver them to national charity, Model Service Society (MSS).
Each Meal Box costs just AED10 and contains a nutritious combination of food and beverage items, including: Oasis Water 200ml, Royal Bakers Croissant, Lacnor Essentials Juice 180ml, Laban Up 180 ml and dates.
Model Service Society (MSS) is a non-profit service organization, working for the betterment and development of individuals, families and communities in the UAE. The organisation's mission is to empower volunteers to serve the communities, meet humanitarian needs and encourage peace.
The Holy Month will also see NFPC supporting the nation's "10 Million Meals" initiative, which was recently launched by His Highness Shaikh Mohammad Bin Rashid Al Maktoum, Vice President and Prime Minister of UAE and Ruler of Dubai and led by his wife, Sheikha Hind Bint Maktoum Bin Juma Al Maktoum, Chairperson of the Board of Trustees of UAE Food Bank. The campaign is organised by Mohammad Bin Rashid Al Maktoum Global Initiatives, in co-operation with the Community Solidarity Fund Against COVID-19.
The public will be able to donate NFPC's Ramadan staples, including Laban-Up, Sterilac Yoghurt and Melco juices to the drive, by calling 052 9036 285 or placing a whatsapp on the same number. This is UAE's biggest food drive which NFPC is proud to support.
Iqbal Hamzah, Group CEO of National Food Products Company comments: "This particular Holy Month, due to the impact of the COVID-19 pandemic there is an even greater need for businesses and communities to support those individuals and families who are struggling. We wanted to make it very easy for the public to make donations, hence we have adapted our Oasis Direct website, so in one quick transaction Ramadan Meal Boxes can be easily donated and delivered. Our support of the 10 Million Meals campaign is an absolute honour – this is a fantastic cause which has already attracted a wealth of organisations, raising hundreds of thousands to help the most vulnerable people in our society. We are in a position to facilitate thousands of donations from the UAE public, and are very pleased to be doing so, particularly in the current challenging times."