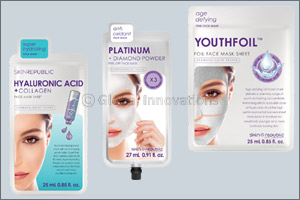 Dubai, United Arab Emirates, May 04, 2020: There is no better way to refresh and rejuvenate dehydrated skin this Ramadan than to indulge in some quick skin pampering. One sure and easy way to get rehydrated and revitalised is through richly infused skin masks.
Skin Republic's sheet masks are the best products to stock up on for the long summer months in the UAE, particularly during the holy month of Ramadan, when skin requires extra attention. Suitable for a variety of skin types, here are the top hydrating heroes from the Skin Republic range:
Platinum Peel-Off Mask (AED 33)
This silver peel-off face mask combines the anti-aging benefits of Platinum with the deep cleansing properties of a peel-off face mask. A combination of Platinum with the exfoliating properties of a six-fruit acid formula, leaves the skin feeling silky smooth and luminous. Among the other ingredients is witch hazel, which helps in controlling water loss and is an excellent astringent. Aloe Vera in the formulation improves the skin's ability to hydrate itself and aids in the removal of dead skin cells.

Youthfoil Face Mask (AED 33)
This age-defying foil sheet mask delivers a one-way surge of youth activating concentrate. Immersing skin in a double dose of hyaluronic acid, this high-performance foil backed sheet mask locks in super intense moisture for nourished, younger and more luminous looking skin.
Hyaluronic Acid + Collagen Face Sheet Mask (AED 29)
This youth activating sheet mask with a powerful anti-ageing formulation targets fine lines, wrinkles and loss of firmness. Suitable for all skin types, this super-hydrating Hyaluronic Acid provides long lasting hydration and helps boost natural Collagen levels for lifted, smooth and more youthful-looking skin.