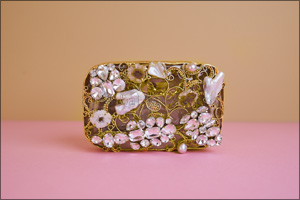 Dubai, United Arab Emirates, April 26, 2020: During a time of peaceful reflection, Mintsa is bringing life to "Earth Generation,' in its new collection of stunning clutches and bags, available for free delivery across the UAE.
Mintsa's designs have always been pieces of art, and 2020 will be no different. Its inspiration comes from the most awe-inspiring elements nature, with the collection's designs encapsulating the significance of the flora and fauna and a colour palette embodying the mesmerizing hues of spring and summer flowers. The materials, patterns and colours are all inspired by a prominent trend - Earth Generation; a theory that the way forward lies in the simplicity of nature. The result is a collection so dazzlingly unique that there is nothing quite like it in the market.
Anemone de Mer
Like the vibrant and colourful ocean life they are inspired by, these bags exude effervescence. Now at risk due to high ocean pollution, Sea Anemone decorate the ocean with their bright colours, which is mimicked on these bags through its vibrance. The collection is playful with the shape and tassels, whilst remaining glamorous. Indeed, the perfect accessory that will pair perfectly with both a casual and formal outfit.
Corail
Along the similar oceanic theme is another stunning bag from the collection - Corail. That classic Mintsa shell clutch with the colourful elements of the coral reefs is a truly memorable bag. Shells and coral are such a significant part of the grand oceanic ecosystem, each serving an important in maintaining that delicate balance. And this clutch is an homage to that delicacy.
La Feuille
To understand the inspiration behind a bag, is to give it new life and meaning. What may appear as mere lines on an exceptionally striking bag are indeed so much more. They represent the veins on a leaf - hence the name of the clutch. Veins serve the crucial task of food and mineral distribution in a leaf. And just like in a leaf, the vines create a beautiful pattern on the bag.
Belles Vignes
One of the most unusual bags in the collection, the Belles Vignes clutch has been inspired by the different plants. With gemstone embellishments a delicate steel frame covers the base of the bag, representing the crucial vines in any plant. This simple yet impactful clutch serves as a gentle reminder of the simple beauty of nature. Paired with this clutch, any outfit is sure to create an equally powerful statement
Stars and Zodiac
The dark night sky, with its majestic moon and twinkling stars above is a reminder of the significance of nature. This bag reflects this beautiful part of our universe - the black silk base presents itself as the perfect canvas for the glittering inscription of the Zodiac sign. A customized bag that creates a statement with its dramatic design and yet, is comfortable and relaxed in its shape; much like the stars that are awe-inspiring and soothing simultaneously.