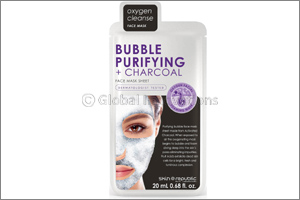 **Cleanse & nourish with Skin Republic detoxifying sheet masks **
Dubai, United Arab Emirates - May 02, 2019: Keeping your skin healthy is as necessary as having a heathy diet during Ramadan. One way to go about this is including sheet masks in your skincare routine throughout the holy month.
Sheet masks are an easy and sure way to hit the reset button on your complexion. Infused with nutrient rich ingredients, sheet masks are one of the most effective delivery systems of nutrients to the skin.
The sheet mask acts as a 'second skin'. This close dermal contact encourages the skin to absorb the serum faster and more efficiently than traditional masks and creams.
To help you emerge with cleaner, more radiant skin, look no further than these two hero detox masks from Skin Republic:
Detox Face Mask Sheet (AED 32)
-Charcoal infused mask sheet
-Rich in antioxidants to prevent premature ageing
-Detoxifies and nourishes skin
The charcoal detox mask is infused with a 10-superfood complex, rich in antioxidants including Green Tea, Acai Berries, Quinoa, and Chia Seed. This mask helps prevent premature ageing from free radicals and protects the skin against environmental pollutants. The charcoal infused mask helps to draw out impurities and detoxifies the skin for a more healthy, luminous complexion.
Bubble Purifying + Charcoal Face Mask Sheet (AED 30)
-Oxygenating facial effect and cleans pores
-Fruit Acids exfoliate and brighten for a youthful appearance
-Refines pores and detoxifies
This purifying bubble face mask sheet is made from Activated Charcoal. When exposed to air, the oxygenating mask begins to bubble and foam diving deep into the skin's pores eliminating impurities. Fruit Acids exfoliate dead skin cells for a bright, fresh and luminous complexion.
All Skin Republic Masks are dermatologist tested and are not tested on animals. Skin Republic masks have a three-year shelf life and are available from:
Department stores: Harvey Nichols, Bloomingdales, Areej, Lifestyle, Karji
Pharmacies: BinSina, Boots, Manara, Docib, Medicine Shoppe, United Pharmacy.
Online: www.souq.com; www.noon.com; www.sprii.com
Supermarkets: Spinney's, Waitrose, Al Maya and Blush