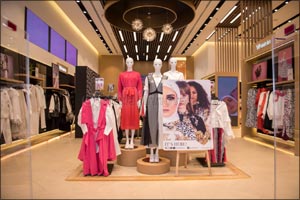 Dubai, UAE, May 01, 2019: After the huge noise for the opening of ANOTAH to its latest branched in the Sultanate of Oman, which attracted a large figures of fashion constellation of the most Artists, bloggers & Public Figures from Oman and gulf region countries along with all Arab & Middle Easters guests, it is today in The Pearl of the World and The Bride of the Gulf Dubai.
ANOTAH Launched the latest selection of Ramadan & Summer 2019 with the Attendance of the great singer Rida Abdulla along with the media icon Wassim Mandil & the beautiful Emiratati star Awtar and much more bloggers & Public figures Mira Al Nagbi, Sahar Mahbobbi & Mira Ali.
ANOTAH puts its creative and fashion mark in its elegant position at the Dubai Mall, New and trendy fashion ready for a hot summer dominated by creative
colors and creative designs that give more comfort to the stylish women.

All the guests expressed their admiration for ANOTAH's latest fashion lines and for its constant care and attention to maintaining the high quality of the world's top brands, while continuing its policy of reasonable prices and even competition in comparison to the quality of fabrics and exquisite designs. That it is the responsibility to take care of even the smallest detail in the launch ceremony of the new form, which included not just the fans of ANOTAH but from the Press, Media, Fashion and Artists, The famous singer Rida Al Abdullah for the first time appears with his adorable baby twines to try & fits the latest selection of ANOTAH in the middle of admiration by the attendances, Press & Media whom extremely appreciate ANOTAH's highest selection of fashion not only for elite women but for young and children. They expressed their gratitude for the presence of a party that paints the real smile with complete elegance on the faces of our children, our girls and our respected stylish ladies.

In turn, the Beautiful Emirati Star Awtar, expressed her delight in Dubai to embrace the Gulf House with its multiple fashion capitals for the latest & highest test and its satisfaction with the status of ANOTAH from a prestigious position competing with the best international brands, To the point that the international brand for Makeup and beauty 'Bobbi Brown' Joined & insisted on accompanying ANOTAH during the journey either at the opening ceremony in Oman or even through the launch of the newest lineup of the latest fashion Collection of ANOTAH in Dubai.