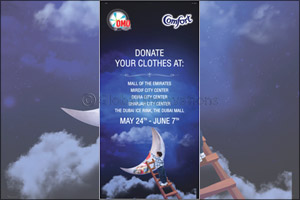 Dubai, UAE, May 24, 2018: OMO will be seen collaborating with Emirates Red Crescent yet again for its annual charity drive, 'Share A Touch Of Love'. The household brand known for championing mothers and children all around the globe will launch its clothes collection initiative this Ramadan. The campaign aims to build on the success of its previous record breaking editions that encourage the community to donate their gently used clothes at designated Mall stands, via scheduled pickups and at multiple donation boxes placed around the country.
OMO's 'Share A Touch of Love' campaign has already collected and distributed over a million items of clothing from the previous editions and this year holds the promise to see that figure grow immensely. The clothes collected from the drive are washed with OMO & Comfort and repackaged before delivered to families in need by Emirates Red Crescent.
"OMO's brand values have been togetherness and sharing and we at Unilever are proud to carry those values on for another year with the 'Share A Touch of Love' campaign", said Cem Tarık Yüksel, Managing Director, Unilever Gulf. "At its core, Share a Touch of Love is about bringing the community together during a month that celebrates compassion and giving to those less fortunate. The campaign only seems to grow bigger with each passing year and this year we hope we can spread that extra touch of love to those underprivileged with support from our community"
From 24th May till 7th of June 2018, stands at Mall of the Emirates, Mirdif City Centre, Deira City Centre and Sharjah City Centre will accept clothing donations.
3 large donation boxes will also be set up by the Ice Rink in Dubai Mall that will operate from 24th May till 7th June 2018. Additionally, 200 new partners including Fitness First, Choithrams, Gold's Gym, LULU and Emirates Airlines will also install donation boxes across their branches from 24th May as well. Boxes will also be placed in community areas such as JBR, Bay Avenue, Bay Square, Shorooq Community Center, Mudon Al Salam Town Community Center and Al Khail Gate Community Center.
Mr. Mohammad Abdullah Alhaj Al Zarouni, Director of the UAE Red Crescent Authority, Dubai branch said, "We are very happy that our longstanding partnership with OMO has benefitted so many families. Ramadan brings out the compassion in the people and we work day and night to turn that spirit of love and generosity into truly touching moments for those in need."