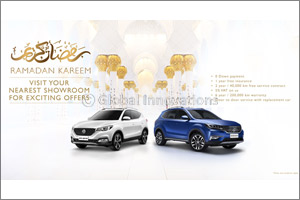 (Dubai - UAE, 24 May 2018) In celebration of the holy month of Ramadan, MG Motor together with its UAE retail partner, Al Yousuf Motors has launched special offers on their latest vehicles. The MG ZS, MG 360 and MG RX5 are now available at prices that start as low as AED575 per month.
Valid until the end of Ramadan, the offer allows customers to purchase the MG ZS SUV at a starting price of AED720 per month, in 60 monthly payments. Based on 'Emotional Dynamism', the MG ZS SUV embodies an expressive design language that emphasizes the premium experience and commitment to quality of the MG brand.
The MG RX5 compact SUV will be available for 60 monthly payments of AED835. The model will appeal to a range of customers across the region, especially younger buyers looking for value for money in a stylish, technologically-advanced package that allows them to stand out from the crowd. Equipped with a 1.5T petrol engine and 7-speed automatic gearbox the MG RX5 is available as entry as entry level STD or mid-range COM models. The more powerful 2.0T powerplant is mated to a 6-speed automatic gearbox and is offered for either COM or top-of-the-range LUX trim levels.

The new MG 360 saloon is now available from AED575 per month, in 60 monthly payments. The model proudly supports the brand's new 'silk modelling' design language, offering a distinctive contemporary exterior look that is accentuated by the sleek side lines and ribbed bonnet. This is complemented by sleek side indicators integrated into the door mirrors and sporty 16" alloy wheels, while the stylish look continues inside the cabin.
Commenting on the Ramadan offers, Mr. Hassan Al Jayouchi General Manager at Al Yousuf Motors said: "This Ramadan, we wanted to give something back to our loyal customers and also give new customers the chance to experience our latest models at a competitive price point. Our refreshed new line up boasts the latest technology, premium design and superior quality, so we are confident that these offers will be well received in the market."
The monthly offers come with MG Motor's unparalleled warranty of six years or 200,000km (whichever comes first) and free servicing up to two years or 40,000km (whichever comes first). Customers will also benefit from one year's insurance, 0 percent VAT and a 0 percent down payment.
MG Motor and Al Yousuf Motors announced their new partnership in March 2018. The UAE automotive services company is introducing MG Motor's fresh new line-up of models to new and existing customers from five locations across the UAE including Dubai, Ras Al Khaimah, Ajman, Abu Dhabi and Fujairah.