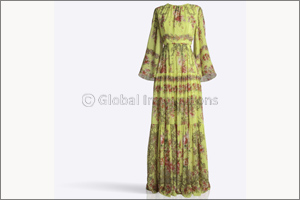 Limited Edition Kaftan Capsule Collection
Ramadan and Eid Al Fitr 2020
Dubai, United Arab Emirates, March 18, 2020: To celebrate the Holy Month of Ramadan, INGIE Paris unveils an exclusive capsule collection of stunning floor-length dresses. Carefully curated for the truly discerning Middle Eastern woman and staying true to their regional heritage while instilling the unique INGIE Paris sophisticated elegance, the collection will be available exclusively in the INGIE Paris boutiques in Dubai Mall and Kingdom Mall in Riyadh, Saudi Arabia.

Focusing on a palette of on-trend florals for Spring 2020, the collection comprises three limited-edition kaftan style maxi-dresses available in four colour-ways, and available in either subtle and feminine pastel shades of mint green and pink, or a more vibrant and contemporary coral and yellow.

This bright and graceful collection presents a timeless reference as well as effortless modernity. The silhouette is easy, relaxed, and focused on the lightness of the textures with superfluous cuts and proportions. True to its DNA, INGIE Paris mixes materials and prints in this Ramadan collection with floral designs on cut-off fabrics. The dresses are adorned with pleats at the bottom and completed with draped necklines and fitted high waists.