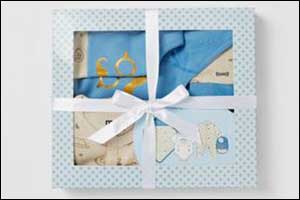 15 July 2021 - Dubai, UAE: It's that time of year again when gifts for friends and family are top of mind for the upcoming festivities. Take the time this holiday to celebrate the people who are most important to you with great value gifts guaranteed to please your loved ones this Eid Al-Adha.

1. Pick a 3-piece embellished pouch set to add a bit of sparkle to any woman's life. The glitter detail pouches (AED29) are spacious enough to accommodate a wide range of makeup essentials.

2. If you're looking for a glittery gift, a set of six embellished earrings for AED29 can be matched with a variety of outfits.

3. Max Fashion's IKSU collection features a full range of makeup for the face, eyes, lips and nails. Designed to empower consumers to be themselves, the collection of both neutral and vivid shades aims to inspire beauty buffs to express themselves in a variety of ways.

4. A scented candle radiates warmth, and fills the space with a gentle aroma. Choose between mesmerizing scents like white gardenia and Amber Absolute for AED25.

5. The 3-Piece Wristwatch Set (AED50) is an ideal pick for men of any style and taste. The set includes a two bracelets and a solid round dial watch to sit any outfit.

6. Need a creative gift for your coffee lover? Look no further than a set of ceramic mugs with feature adorable messages for just AED29.

7. The solid laptop bag is a great gift (AED90), along with the stylish design and straightforward function makes a great gift for men of all ages.

8. A pair of shades (AED25) will help your man keep his eyes duly protected while looking as stylish as ever.

9. A stylish and comfortable pair of sports shoes will keep him relaxed while walking. The breathable material offer convenience while wearing which makes them ideal for regular use, priced at just AED70 at Max Fashion.

10. For the little ones, a five-piece Apparel Festive Gift Set (AED85) is an excellent choice to present to new parents. Available in both graphics and slogans, this set displays refreshing, bright colours and cute prints. Every piece is carefully tailored from breathable and soft organic cotton – a natural and renewable fiber free from the harmful effects of toxic pesticides to provide maximum comfort to the baby at all times.