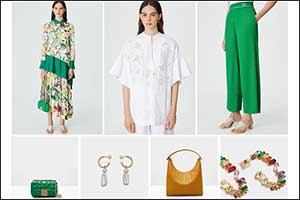 July 15, 2021: Purificacion Garcia curates an exceptional selection of ready-to-wear pieces, bags and accessories for Eid Al Adha.
The brand has put together a few must have pieces in vibrant colors and unique floral motifs, to celebrate in style for the special occasion.
The selection includes a wide variety of bags and stylish accessories which adds a sophisticated touch to the overall look.
The stunning bag selection includes some of the brands most iconic pieces namely from the following collections: Homenaje Acolchado, Homenaje Trenzado, Origami and 360° Bucket.
These items deserve a prime spot in a women's closet – unique, versatile, timeless pieces that provide elegance and sophistication.