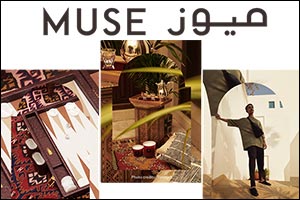 United Arab Emirates - April 19, 2021: MUSE, Chalhoub Group's loyalty programme, is bringing its members exclusive rewards and experiences this Ramadan when they shop at beloved brands across the UAE, Saudi Arabia and Kuwait. In line with their continuous efforts to offer elevated benefits to its members, MUSE has released a fresh set of remarkable rewards redeemable on the MUSE App throughout the Holy month for those shopping at any of their 40+ brands, region-wide.
To unlock one of ten rewards, members must shop 500 AED+ (or its equivalent in Kuwait and KSA) at any of the beauty, fashion, and lifestyle brands within MUSE, such as Level Shoes, Swarovski, L'Occitane and more. With rewards ranging from cooking and fitness subscriptions to free beauty treatments and spa passes, the Ramadan rewards by MUSE are sure to make the holy month an exceptional one.
Here's a sneak peak of the exclusive rewards on the MUSE App:
• For the Modern Man - Feel good with a free service of choice at leading male salons
• For the Beauty Lovers - Unwind with a free mani, pedi or blow dry at luxury female salons
• For Ultimate Relaxation - Enjoy a three-day pass to beaches and spas via Select App
• For the Travelers - Receive a $250 hotel voucher from TLC Travel
• For Aspiring Chefs – Take at-home cooking classes with a free one month subscription to Smart Kitchen
• For light Entertainment - Access the largest library of Arabic content on Shahid with a free 3-month subscription to Starz Play
TERMS & CONDITIONS: Rewards vary by market and are available to members upon a purchase of AED / SAR 500 or KD 45 in-stores and online at MUSE brands. Rewards are redeemable via the MUSE App on a first come first serve basis starting April 8th and are valid for 3 months.
For the full list of the rewards available in each market along with terms & conditions, visit the MUSE website: UAE, KSA & Kuwait.
This is just one of many initiatives MUSE members can look forward to from the region's leading luxury loyalty programme. More to come in the following days: An exciting bonus offer starting April 29 to unlock up to 20,000 points; and Daily Contest Drops to win coveted prizes from MUSE brands starting May 2. Lastly, and in the notion of giving during this exceptional season, MUSE has partnered with Charity programs across the region such as Al Ahyaa Centers Association in Saudi Arabia and Nefsy and Tarahum Charity Foundation in the UAE to donate 1,000 iftar meals in each country. MUSE members can take part by donating their MUSE points to the cause via the MUSE App.
MUSE reimagines luxury loyalty with it's new-age programme keeping its members at the forefront of every special occasion. With over 40+ regional brands from fashion retailers such as Lacoste, Tory Burch and Kenzo, to coveted beauty brands including Faces, L'Occitane and Nars, and lifestyle brands Tanagra, Swarovski and Tumi, MUSE opens a world of possibilities across the UAE, Saudi Arabia, and Kuwait. These benefits are not only limited to MUSE members; non-members can also enjoy these exceptional rewards by MUSE by simply downloading the App and shopping at any of the brands.