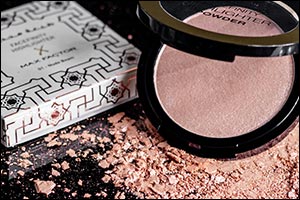 April 19, 2021: Throughout the year, Max Factor is dedicated to providing everyday beauty solutions to enhance and boost every woman's appearance and confidence in herself and aims to empower women to create their own stories on a daily basis.
To help you glow this Eid, Max Factor has launched the Facefinity Highlighters and bronzers paired with the Facefinity 3in1 Foundation – a combination that is sure to provide the ultimate full coverage duo. Whether it is an impact you are after, or a simple enhancement, that duo will make an impression any time and at any occasion especially this Eid.

Inspired by this holy month of Ramadan, Max Factor created a limited-edition package for its all-new Facefinity Highlighter powder. If you seek a universally flattering glow that naturally enhances your features, the Facefinity Highlighter is made for you. Its lightweight and seamless powder finish boosts natural luminosity and enhances the skin to ensure your beauty is highlighted this Eid.
This highlighter has a superb blendable finish, doesn't crease, keeps the fine lines smooth especially when paired with the Max Factor Fan limited edition Ramadan brush to get a flawless finish.
The Facefinity Highlighter is available in three flattering shades:
01 NUDE BEAM
02 GOLDEN HOUR
03 BRONZE GLOW
The Facefinity Bronzer's ultra-weightless, seamless powder provides a natural blendable finish and comes in two universal shades:
01 LIGHT BRONZE
02 WARM TAN

To achieve an instant radiant natural sun kissed tan, make sure to use the Max Factor limited edition powder brush created to enhance your beauty.
Max Factor Facefinity 3in1 foundation is the ultimate companion for any woman looking for a long lasting, full coverage foundation that's easy to use and guarantees a flawless complexion. The unique primer-concealer-foundation hybrid blends easily onto the skin delivering ultimate comfort during wear with an ultra-lightweight finish. The SPF 20 foundation evens out the skin tone while preventing signs of ageing and damage from UVB rays and is available in 28 shades.
Ramadan is the perfect time for sharing and giving. To enhance your natural beauty even more, take advantage of our limited-edition gift – two Max Factor brushes with Ramadan limited edition patterns with any purchase of the Facefinity Highlighter.
With this dynamic trio, you have all you need to get ready to glow up this Eid!