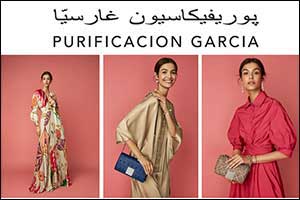 United Arab Emirates - April 07, 2021: Spanish fashion house Purificacion Garcia showcases a special selection of staple pieces for the Holy Month of Ramadan, designed to fit all styles and preferences with modest direction.
The brand presents this collection with a surprising twist by adding sophisticated elements inspired by Middle Eastern women. Loose silhouettes and creative designs are the defining traits for the season and the collection's flowing garments used offer a twist between contemporary with modernity.

The exquisite collection proposes versatile pieces in playful prints capturing the essence of the brand including long shirts, tops, pants perfect for daytime wear and kept light for the warmer temperatures. While long wrap-dresses being key pieces from the selection welcome the festivities after dark.

The brand has carefully selected some of their most iconic bags from renown designs such as the Homenaje Acolchado and Samburu bags, as well as pouches to add a unique touch to the outfit. The leather goods are available in a color palette of beige, teal, metallic, as well as masterfully embellished calfskin bags perfect for special occasions.