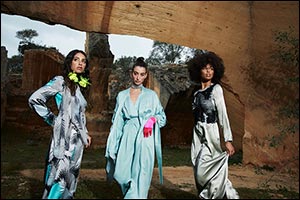 Modern Cultural Minimalism

United Arab Emirates - March 30, 2021: To commemorate the Holy Month of Ramadan, the house of NIILI, the UAE-based luxury womenswear brand, presents a unique capsule collection inspired by the rich heritage of the United Arab Emirates and its geographical and cultural visual poetry, fused with a symbiotic representation of the modern Middle Eastern woman.

The NIILI Ramadan capsule celebrates the union of two distinctive icons of the UAE's culture and symbolism – palm trees and henna. The ancient art of henna design still plays an important role in the lives of Emirati women, who commonly cover their hands and feet in this natural dye for weddings and other religious events like Ramadan and Eid al Fitr.
Palm trees form an important part of the daily life of Emirati people as they play an indispensable role as a key source of sustenance in the country. To celebrate this amalgamation, the geometric designs of the henna are woven into the leaves of the palm tree thus taking shape into a modern yet surreal landscape of the UAE. This customised pattern is visible throughout the Ramadan capsule on kaftans and separates and the hand drawn textile design once again represents the very DNA of NIILI in their collections.