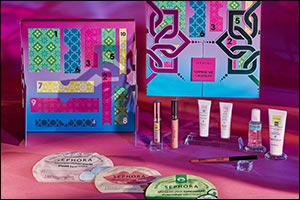 March 28, 2021: Get into the Ramadan spirit, and share your passion for beauty with your loved ones (or yourself - because self-love is important too!). This year Sephora Collection has prepared the most fascinating Ramadan bundles for its beauty addicts! Get ready to discover the latest value sets from the brand's bestselling exclusives.
You want to know more? Let us show you what Sephora Collection has assembled for you!
The Ramadan Surprise Me Calendar is BACK... And Better than EVER!
This year's limited-edition Surprise Me Calendar contains 10 beauty surprises to discover on the daily, featuring bestsellers ranging from makeup, skincare to accessories. But fair warning, these sparkly doors are so adorable you might want to sneak a quick peak and open all of them at once... So stay strong!
Price: AED 149 / SAR 165 / QAR 149 / KWD 12.25 / BAH 15.25
My Cream Lipstain Set
Discover Sephora Collection's most coveted Cream Lip Stain shades in a limited-edition Ramadan pouch for a great value! Designed for Sephora Collection's Cream Lip Stain lovers, this pouch will give you the to get 6 shades for the price of 3. Infuse your lips with rich matte shades & create unique looks for your special Ramadan gatherings!
Price: AED 249 / SAR 264 / QAR 249 / KWD 19.50 / BAH 24
All Eyes on my Sized Up Mascara Purse
Take your lashes from size L to XXL & enjoy a hassle-free easy mascara removal! This Ramadan value set combines two bestsellers in one stylish pouch; the Size Up Mascara & Gentle Chamomile Make-up Remover. That's not all! You will also get their respective minis for FREE, so they can easily be packed with you wherever you go!
Price: AED 129 / SAR 139 / QAR 129 / KWD 10.75 / BAH 13.25
Get Up and Glow Kit - All day hydrator, Glow mask and Mini rose quartz roller
Ready to glow from within? This value set includes Sephora Collection's Face Sleeping Mask Intense Overnight Care, All Day Hydrator Moisturizing Face Cream & the perfect accessory to match this full-on skin routine the Rose Quartz Facial Roller.
Price: AED 109 / SAR 119 / QAR 109 / KWD 9.00 / BAH 11.25
Facial Ice Cooling Globes - Massage Set
Discover Sephora Collection's latest accessory this Ramadan and add this new must have to your skincare arsenal! The perfect way to end a day of fasting and give your skin the attention it needs. It improves skin appearance and gives it a refreshing feeling that helps reduce puffiness.
¬¬ Price: AED 139 / SAR 150 / QAR 139 / KWD 11.50 / BAH 14.25