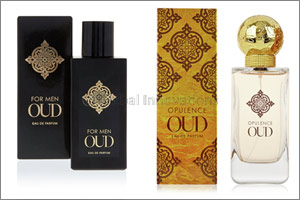 Dubai, United Arab Emirates, March 17, 2020: Celebrate this Ramadan with Marks & Spencer with a range of luxurious and exquisite Oud fragrances. With two stunning fragrances for men and women alike, those looking to gift loved ones, need look no further.
The Opulence OUD Eau De Parfum, made especially for women, leaves a warm and woody trail on the skin, with notes of vanilla, sandalwood, patchouli and dahn al oudh. Signifying a sense of opulence and glamour with its floral heart and aromatic saffron accords, this captivating scent is a must-have this Ramadan.
Alternatively, men can enjoy Marks & Spencer's OUD for Men, where rich woody tones, resins and oud are balanced with amber, tonka, rose and vanilla to create a truly unforgettable fragrance. The sleek black design of the bottle accented with gold detailing brings to life this sought-after scent and is also available in an eau de parfum for a more intense and longer lasting wear.
Bring a touch of elegance to Ramadan and Eid occasions with Marks & Spencer's Oud collection today.
MARKS & SPENCER
OUD for Men 100ml
BD 12.50
MARKS & SPENCER
Opulence OUD Eau De Parfum 100ml
BD 16