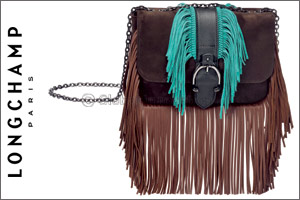 Luxury brand, Longchamp, which is known for its expertise and excellent craftsmanship, celebrates Eid with its two iconic collections: Calvacade and Amazone
Dubai, United Arab Emirates - May 29, 2019: For SS 2019, Cavalcade draws on the endless horizons of the Californian desert with all-new variations and colors exuding untamed, hippie-chic elegance, while the new Amazone bags flaunt the fearless spirit of a timeless line.
For SS 2019, Cavalcade draws on the striking contrasts of these bags blend in with the ready-to-wear collection. The hobo bag and panther-print/silver bag are adorned with fringes. In one version, the two signature strips are updated with a black and white animal print paired with purple suede.
Essential this season, fringes also embellish a cross-body bag available in cognac or emerald suede calfskin leather. Feel free to pair it with a woven strap for an ethnic twist. The Californian theme continues with another variation of this cross-body bag in studded calfskin with cream and chocolate-colored inserts.
Cavalcade also embraces a rock allure with padded and studded lambskin. The choice of color is all yours: glossy black with fringes or rosewood on a cross-body bag or chain pouch. All Cavalcade bags include the Longchamp-engraved swivel closure, the signature of one of the Maison's iconic lines.
Amazone never fails to surprise. For SS 2019, exciting new variations and colors fuse Californian cool with Parisian elegance. The iconic padded version now comes in elegant red, beige and gray lambskin.
When vamped up in black patent leather, it exudes glamor. For a laid-back summer look, a denim-blue cotton canvas version is embroidered with interlaced rings. The signature python-embossed calfskin is showcased on an Amazone bag in all-new shades of purple, cognac and emerald.