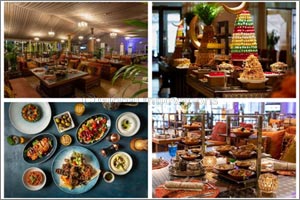 Eid Al-Fitr Brunch at Ewaan in Palace Downtown
Dubai, United Arab Emirates - May 22, 2019: Palace Downtown is welcoming Eid with a sumptuous brunch at its signature restaurant, Ewaan.
Celebrate Eid Al-Fitr with family and friends and enjoy a generous buffet combined with exceptional hospitality of Ewaan. Stretching into the Palace gardens, the Ewaan tent on the terrace reflects the distinctive architectural qualities of the destination itself, creating a unique sense of tradition.
The Arabesque appeal of Ewaan comes alive with a tempting blend of traditional Middle Eastern and international cuisine. The buffet offers a wide range of delicious dishes satisfying all tastes in an elegant setting.
Celebrate the spirit of this festive occasion and create long-lasting memories at one of Dubai's most-sought after destination, Ewaan. Get there early and you can get a private dining alcove to enjoy privacy with your family.
Date & Time: Friday 7 June 2019 from 1.00pm to 4.30pm
Price: Starting from AED 345 per person
Celebrate Eid Al-Fitr evenings at Ewaan in Palace Downtown
With the holy month of Ramadan coming to an end and Eid al-Fitr just around the corner, it's time to start planning your long weekend! Palace Downtown invites you to experience traditional Arabian cuisine at Ewaan this Eid Al-Fitr. Savour generous Middle Eastern and international evening buffet spread in a palatial Arabesque setting.
Date & Time: Daily during Eid Al-Fitr from 7.00pm to 11.30pm
Price: Starting from AED 255 per person