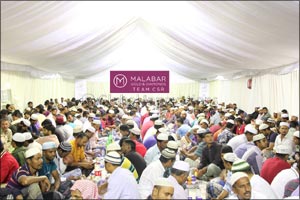 Facilities and Iftar kit availability has been increased due to overwhelming response at Sajaa iftar camp to accommodate a total of 1,14,000 beneficiaries this Ramadan.
Malabar Gold & Diamonds associates with various associations and like – minded organizations this Ramadan to provide Iftar meals & other CSR initiatives.
Malabar Gold & Diamonds continues to devotedly take part & conducts various CSR initiatives this year which was declared as the 'Year of Tolerance'
Dubai, United Arab Emirates - May 16, 2019: Malabar Gold & Diamonds, one among the largest jewellery retailer with 250 stores worldwide has its CSR activities going in full swing in the GCC and Far East region this Ramadan too.
Due to the overwhelming response of its Iftar program at Sajaa camp, the number of beneficiaries in the camp has been increased from 21,000 to 54,000. Embracing the spirit of 'Year of Tolerance', Malabar Gold & Diamonds has its CSR activities planned for the whole month in association with like-minded organizations to benefit the needy. In total, 114,000 special Iftar meals / kits will be distributed during this period.
With the Sajaa Iftar camp facilities expansion in UAE, a total of over 81,000 Iftar meals / kits will be provided to the residents in association with various like-minded organizations like Sharjah Charity International, Community Development Authority, Dubai Municipality, Sharjah Awqaf, Red Crescent, KMCC, MSS, various labour camps & masjids throughout this holy month of Ramadan. Instead of the initial plan of providing Iftar meals for 700 people, Iftar meals for 1800 is being provided now at Sajaa Industrial area, Sharjah on a daily basis due to the great reception of the program.
The Iftar meal distribution takes place daily throughout the holy month of Ramadan in an air conditioned tent which is set up with the support of Sharjah Charity International. The company is also distributing Iftar meals across the various labor camps & nearby masjids in UAE.
In Oman, the group provides over 16,000 Iftar meals all over Oman throughout the holy month of Ramadan. An air conditioned tent which is set up at Ruwi, where more than 15,000 beneficiaries are being benefitted.
In Bahrain, the group is providing over 5,250 Iftar meals to the workers at different labor camps located all over Bahrain like Askar, Akker, Jau, Arad, Hidd etc. Like in previous years, they are associating with Discovery Islam, Royal charity organization, Al Hedaya Centre and Friendship Society for Blinds, UCO Parents Care to carry out such activities during Ramadan.
In Kuwait, the group is providing Iftar meals to over 3,000 laborers in different parts of various governorates and the desert areas in Kuwait.
In KSA, the group is providing Iftar meals in Haram area of Madina Al Munawarah in association with KMCC and Iftar kits are provided in Makkah Al Mukarramah as well.
In Malaysia, the group provides 800 special Ramadan Kit to the under privileged people which includes the grocery which will be enough for a family of 3 persons to break the fast for 10 days during Ramadan. The Company also provides 1,000 Iftar meals which will be distributed in & around of various masjids.
Since its inception in 1993, Malabar Group has been actively involved in CSR activities with the aim of creating a difference to the community in and around their area of operations. The importance of CSR activities for Malabar Group has grown over the decades and the group sets aside 5% percentage of its net profit for the benefit of the needy in the respective markets it operates in. They undertake social welfare activities all year long, focusing on five priority areas such as medical, educational sector, environment as well as housing and women empowerment.