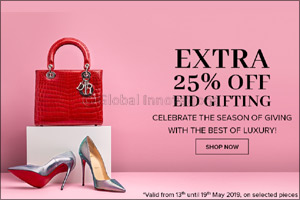 Sell with The Luxury Closet and Celebrate the Gift of Giving This Ramadan

Dubai, UAE: May 15th, 2019: In the spirit of the holy month of Ramadan, Theluxurycloset.com, the leading marketplace for buying and selling luxury items, has partnered with Dubai Cares to support its programs aimed at positively impacting the lives of underprivileged children and young people in developing countries through education. This initiative enables sellers to simply submit any designer items they wish to sell on Theluxurycloset.com or app. They will be provided with the option to dedicate a percentage of their proceeds towards Dubai Cares' programs, with the percentage options being 10%, 20%, 50% or full amount. These proceeds will be transferred to Dubai Cares as soon as the item has been sold.
The Luxury Closet is changing the way people think about and shop luxury, by showing an industry known for its opulence that fashion can be sustainable, and an agent to do good. The new age luxury start-up is joining forces with Dubai Cares to improve the lives of children and young people in developing countries. Using the established platform, consumers can sell their items and make a simple donation of their choice to support Dubai Cares' education programs in developing countries. Additionally, during the holy month of Ramadan, The Luxury Closet will cover a week of education for a child for every item that is consigned with a donation commitment to work towards the goal of giving a child a promising future.
Dubai Cares is a UAE-based global philanthropic organisation playing a key role in helping achieve the United Nations Sustainable Development Goal (SDG) 4, which aims to ensure inclusive and quality education for all and promote lifelong learning by 2030.
The Luxury Closet launched in 2012 with the purpose of disrupting the way consumers interact with luxury by introducing the concept of resale in UAE. By rehoming unused luxury products the company extends their lifecycle, and reduces the impact on the environment. The team provides a concierge service to their sellers helping them de-clutter their closets, making them feel refreshed and enabling them to renew their collections while allowing their buyers to find limited edition, and hard to find items at prices they never thought possible.
"The team at The Luxury Closet are passionate about helping both our consumers and Dubai Cares in the most genuine way. We completely support the philosophy that education is more than a human right, it is an irrevocable asset in a child's life and it is an honor to be joining forces with Dubai Cares to work together in taking the next step in the right direction" comments Kunal Kapoor, Founder and CEO at The Luxury Closet.
Help The Luxury Closet make a difference and support the noble cause by giving our future generations the opportunity of education. For further information, please visit theluxurycloset.com.