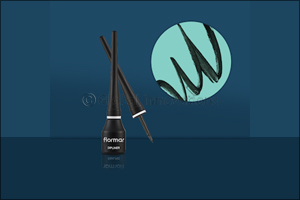 Dubai, United Arab Emirates - May 14, 2019: It's time for Ramadan nights where beauty and grace fill every hall. The stage is set, and you need to look your best. There are only three beauty essentials you'll really need to take your Suhoor look to the next level. Flormar puts them together for you so that you can get all prepped up, looking glam in no time.
Truecolor Dipliner in Matte and Vinyl (AED 33)
Apply eye make-up easily using these true color dipliners. The nourishing formula, intense colors, and moisturizing effect will help you to protect your skin. This defines the shape of your eyes, does not smear due to sweat or humidity and your makeup lasts all night long!
Precious Curl Mascara (AED 93.45)
Easily curl your eyelashes with Precious Curl Mascara's custom-design brush. With its advanced formula, you will have long, defined and voluminous lashes, and complete the most important step of a dazzling eye make-up. Flormar Precious Curl Mascara will give your lashes a perfect form.
Silk Matte Liquid Lipstick (AED 40.95)
A wonderfully creamy, liquid lipstick with full coverage and a matte finish, Silk Matte Liquid Lipstick lasts for hours, and the silky-smooth formula takes care of your lips and prevents dryness.