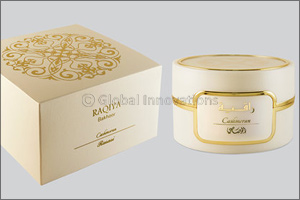 Dubai, UAE, May 2019: Rasasi Perfumes, one of the leading perfume brands in the Middle East, showcases few of its most beautiful fragrances, rich oils and luxurious oudh for the upcoming festivities of Eid. Rasasi fragrances blend high quality ingredients with the finest oriental perfumery traditions mastered over the last four decades.
Gifting is a beautiful universal act representing one's thankfulness and gratitude during special occasions and traditional celebrations. In the Arab world, gifting is considered as an important part of the culture and symbolises closeness, thoughtfulness, respect and appreciation.
Keeping in line with the spirit of Eid, fragrance experts at Rasasi recommend perfumes which complement the needs of the individual you are gifting. Rasasi's contemporary range of perfumes and incense is simply an ode to the Arabic perfumery traditions and heritage with an emphasis on pure and natural ingredients, interpreted through modern manifestations that blend with the sensibilities of present day scent lovers. You can never go wrong with these best sellers.
Rasasi's Eid Gift Guide:
For Her -
1. Hawas for Her has been created for women who are seeking an edgy, yet chic fashion statement. The sensational floral woody fragrance is infused with the exotic gourmand scents that lends it a very unique and addictive appeal.
2. Attar Al Boruzz - Lamaat Musk Tabriz is a captivating unisex fragrance as pure and enduring as a desert sunrise. Harnessing only prized ingredients from around the world, this rich and potent blend of fruity accents and dry woody notes warmed by soft spices radiates with an inimitable intensity.
For Him -
1. Hawas for Him blends cinnamon, bergamot, orange blossom, grey amber and sandalwood to create an aquatic scent designed to embody masculine strength and vigour. The fragrance captures the adventurous, exploratory and evocative spirit of the modern man.
2. Nebras Al Ishq - Wahaj, is an additive and refined fragrance oil which opens on a sensuous floral bouquet of lotus flower, pure jasmine, majestic orris and damask rose. Oudh imparts this opulent creation a magnificent signature encapsulating passion and transcendence.
Home -
1. Oudh Al Mumaiz, the fragrance of this Oudh is associated with refinement. The exotic fragrance which is a precious blend of coveted oudh, precious woods, saffron and spices reflects flamboyant elegance.
2. Raqiya Cashmeran - Bukhoor (Incense), Raqiya has been synonymous with warm Arabian hospitality since the last two decades. In Raqiya Cashmeran, the strong warm wafts of spices aloft the sweet, lingering caress of a thousand jasmines cascade into the deep and rich woody agarwood and cashmeran sweetened by the earthy amber making this precious oriental fragrance, rich and eternal.
3. Bukhoor Al Ajwad is a contemporary, reinterpretation of a very floriental fragrance. Ajwad offers a complex and sophisticated experience of varying and brilliant deluges similar to a journey through varied emotions.