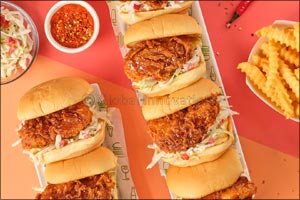 Shake Shack's Newest Limited Time Offering to Debut on Wednesday, May 1st
Dubai, UAE, April 29, 2019: Turn up the heat! Shake Shack® is excited to announce its newest item The Hot Honey Chick'n, all set to make its debut across all UAE Shacks on Wednesday, May 1st.
This limited-time burger is a new, spicy take on Shake Shack's classic Hot Chick'n burger. It is crafted from 100% all-natural chicken breast – with no antibiotics ever - seasoned and crisped to perfection and tossed in a hot honey sauce. To add some crunch, the chicken sits atop a slaw made from crisp apples, cabbage and bits of cherry peppers, served in a pillowy potato bun.
"The Hot Honey Chick'n is the perfect blend of sweet, spicy, and cool, featuring a spicy, seasoned honey and an apple cabbage slaw, which we are so excited to share with our spice-loving fans in the Middle East" said Mark Rosati, Shake Shack's Culinary Director.