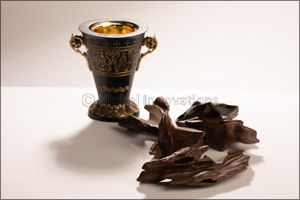 Rasasi offers 100% natural oils produced with the finest quality of ingredients
Dubai, UAE, April 24, 2019: As we approach the Holy Month of Ramadan, Rasasi Perfumes, one of the leading perfume brands in the Middle East, is curating an exotic and rich range of concentrated perfume oils and finest agarwood at its stores located across the region, to cater to customers looking for alcohol free, natural essences.
Every Ramadan new variants of concentrated fragrance oils which includes pure floral essences, pure floral extracts with spicy inflections and dhanal oudh are curated keeping in mind the varied regional scent preferences across GCC and to meet the surging demand for natural perfumes. An array of agarwood variants is also added to an already wide variety to bring something new for the customer.
Commenting on the increase in the use of natural perfumes during the holy month of Ramadan and Eid Al Fitr, a spokesperson from Rasasi, said, "The holy month of Ramadan is synonymous with warm hospitality and family gatherings. Agarwood, a huge part of the GCC culture and heritage, is a symbol of the famed Arabian hospitality. Apart from adding a pleasing and soothing fragrance to the surrounding, burning agarwood while welcoming guests is considered as a gesture of respect towards the guests. Though Khaleejis love the majestically rich and complex splendour of natural perfumes like dhanal oud and mukhallats even on ordinary days, the surge in demand during Ramadan is exponential. We prepare months in advance to be able to meet the demand."
For centuries, the scents of Arabic perfumes have been captivating the world with their distinct aromas. Arabic perfumes are opulent, rich and warm oriental fragrances that are preferably used in their natural forms where they are stronger and linger longer.
Rasasi houses a great variety of authentic agarwood, from rare heartwood of old agarwood trees, to top graded high quality heartwood, with each piece handpicked by experts to bring the finest of the palette to the connoisseurs of agarwood. Be it the exotic Oudh Taj Al Shuyukh, which is rare variant from Cambodia or the enthralling Oudh Al Meksar, Rasasi agarwood collection has something for everybody.
Dhanal Oudh, the pure extract of agarwood tree is the most coveted oriental perfume, highly desired for its complex scent that unfolds over a course of many hours, imparts lasting fragrant trails quintessentially reflective of the famed mystique and magic of oriental perfumery. Rasasi's selection of premium dhanal oudh that pay homage to an ultimate experience in purity include the delectably rich Indian Dhanal Oudh Sufi Sultani and Maliki Qadeem, apart from a wide range from India, Cambodia and Malaysia. Rasasi is equally famous for its range of attars and mukhallats.
With a four-decade legacy of blending the finest scents that celebrate the rich tapestry of the Middle East and GCC, Rasasi prides itself on having an unrivalled knowledge of the finest traditions of perfumery and art of fragrances. Visit any of the Rasasi stores located across the UAE to select the perfect gift for your near and dear ones and make this Ramadan even more special and blessed.