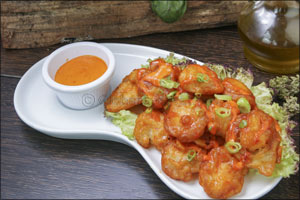 Dubai, UAE, April 24, 2019: A time to reconnect with your loved ones over delicious food. For those who would like to break their holy fast by indulging in a non-tradition Ramadan buffet, 800 Degrees Pizzeria launches an exquisite iftar menu.
Dynamite Shrimps price at AED 49 is made with perfectly crisp fried shrimp coated with dripping tangy spiced mayonnaise, and garnished with fresh spring onions on a bed of crunchy Romaine lettuce. If this is not enticing enough, 800 Degrees is also offering an Italian favorite, Pollo alla Cacciation price at AED 69 for the main course, this hearty traditional Italian stew is cooked with chicken, mushrooms, red capsicum, olives and capers to create a Mediterranean-inspired flavor bomb. It is served with a side of creamy and silky smooth mashed potatoes.
No meal is complete without adding a dash of a little something sweet. Our Pannacotta with Mandarin is priced at AED 24 is a decadent and fragrant Panna Cotta infused with a zesty mandarin orange sauce garnished with refreshing mint leaves.
On the launch of the iftar menu, Manish Jeswani, Managing Director at 800 Degrees Pizzeria states, "we have come up with this special and non-traditional iftar menu for the adventurous foodies that would like to indulge in something a little different this Ramadan."
The restaurant will be open for business where diners can dine-in, takeaway or call for delivery to enjoy this iftar special menu.