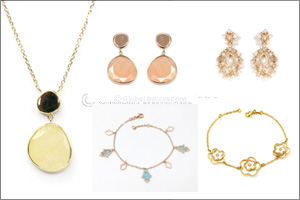 Dubai, UAE, April 04, 2019: With Ramadan fast approaching, La Marquise have announced their Ramadan & EID jewellery collection which celebrates the special time of year.
La Marquise's latest collection of stunning jewellery includes a vast array of beautiful pieces from long, flowing necklaces to classic earrings. An alluring theme of oriental style runs throughout La Marquise's Ramadan & Eid collection, harnessing delicate stones with bold designs that incorporate a modern twist. The ornate adornments of this glowing assemblage are perfect to pair with rolling kaftans and breezy abayas, making each piece of jewellery a must-have this Eid.
At the heart of this collection La Marquise Jewellery have used the enchanting beauty of Pearl as their muse, fashioning it into exuberant pieces that display grace and sophistication. The soft hue of this nacre gemstone emits a calming aura from the jewellery it sits in, perfectly reflecting the pure and sacred serenity of Ramadan. Such purity makes these jewelled adornments both bold and elegant statement-pieces, and not to mention utterly irresistible!
In addition, La Marquise's designers have incorporated an array of semi precious stones into their Ramadan & Eid designs, adding a flare of joyful colour into the collection. These pieces are vibrant and charming, tying in with the seasonal essentiality of celebration and devotion.