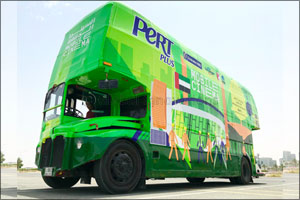 Movies to be screened for free during Ramadan at 20 labor camps across Dubai in partnership with Mobile Cinema, presented by Pert Plus
Dubai, UAE, 13 June 2018: During the holy month of Ramadan, thousands of laborers across Dubai will be watching classic movies thanks to a purpose-built double decker Mobile Cinema Bus, which is presented by Pert Plus touring 20 labor camps in Dubai.
Friends and colleagues will have the opportunity to relax whilst a mix of movies, which will be screened for free every evening between 5 June and 5 July from a giant screen on the side of the Mobile Cinema Bus. Before the movie screenings at 9pm, snacks will be distributed for free and games will be available adding to the community atmosphere. Places will be available on a first-come-first serve basis and each movie-goer will also receive free popcorn, snacks, a drink and a Happiness Bag.
Pinar Celikel from Henkel GCC Beauty Care Marketing "Ramadan is a time to spend with people close to us and with thousands of laborers in Dubai a long way from their families, we hope this gives a taste of home and the opportunity to spend time with friends."
Thanks to Mobile Cinema, presented by PERT Plus, a 'soft hair in one step' shampoo inspired by traditional Arab remedies, organisers are hoping to attract around 15,000 unsung heroes of Dubai to the movie screenings.
During the campaign, Dubai residents can win daily prizes if they see the bus touring around the emirate thanks to the 'Spot the Bus and Win' competition. Take a snap of the Mobile Cinema Bus and post your picture on Facebook or Instagram using the hashtag #mobilecinemadubai and #PertPlusIsAllYouNeed for a chance to win prizes.