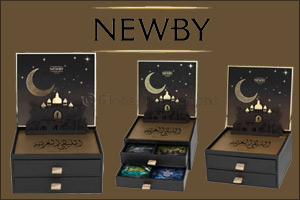 Dubai, UAE, June 4, 2018: From the beloved luxury tea brand that retails in Harrods and online, comes an elegantly designed gift box in celebration of the holy month of Ramadan. Newby Teas, the luxury tea company, is launching its limited edition Arabian Nights gift box for the first time in honor of the holy month.
This stunning gift box has been created with the inspiration from the famous Arabic folklore 'Alf Layla Wa Layla' or popularly known as A Thousand and One Nights OR Arabian Nights in English. The new box design builds on Newby Teas legacy of award-winning packaging available at www.newbyteas.ae
The alluring pop-up setting features elements representing Ramadan, such as the traditional crescent moon paying homage to the time to break fast. Making it the perfect table arrangement for Iftar and Suhoor gatherings.
This luxurious 2-tier box features intricate foiling details with a selection of 40 silken pyramid Newby famed teas that can be shared with family and friends. Arabian Nights contains a combination of 8 flavors of Newby's award-winning bestsellers. Hunan Green, Masala, Jasmine, English Breakfast, Kanjunga, Earl Grey, Peppermint and Ginger Lemon are individually sealed for a fresh flavor sensation. Making the Newby Arabian Nights a decadent wonder for the special occasion of this holy month.
Retailing at AED 830 Newby Arabian Nights is perfect for complimenting any Iftar and Suhoor gathering as well as makes an elegant and impressive gift for Ramadan and Eid al-Fitr.