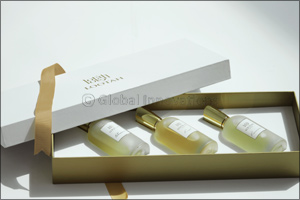 A memorable gift of timeless scents
Dubai, UAE, June 3, 2018: The Perfumery Set - The exquisite set will surely suit your style as it allows you to choose three fragrances from LOOTAH's range of perfumes which reflect a unique combination of oriental and French notes. The fragrances come in an elegant white and gold box with a ribbon. Price: AED690.
The Incense Set
The Incense Set represents a highly distinguished gift for Eid, which includes four exquisite incenses (Dubai Incense, Lootah Incense, Rawda incense and Bint Al Shyookh Incense) and two fragrant oud (Al Ameer Oud and Al Sultan Oud) along with ever-lasting accessories: burner, a branded tong, and lighter and LOOTAH charcoal box). Price: AED685.
My Scent Box
As the name suggests, this is a box that holds scents that speak to the wearer, and captures the essence of the personality of whoever the box is meant for. Encased in a signature white leather box and lined with exquisitely designed velvet, My Scent Box opens up to reveal a collection of the scent of your choice from an exhaustive collection of LOOTAH's finest perfumes, incenses, fragrant oils and oud. Price starts from AED700.
The Blend Set
The Blend Set is a sophisticated sampling of enticingly distinguished aromas. A beautifully compiled set in a white leather box with a spectacular collection of fragrances including jasmine with a hint of musk and spicy aromas can be found in the Lootah Signature Incense; the harmony of jasmine and musk is captured subtly in the Luminous Perfume; and a mix of blackberry, toffee and orange notes comes together nicely in the Sood Al Ayoon Fragrant Oil. Price: AED580.