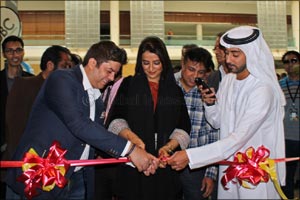 Dubai, UAE, June 2, 2018: Ramadan Big Bazaar, the largest and most anticipated Night Souq in Dubai during the holy month of Ramadan will open its doors on 31st may at Sheikh Rashid Hall, Dubai World Trade Centre. The Grand Inauguration will be done by Actor / T.V. Presenter Mr. Ahmad Abdulla Mohammad Alrammal & Actress / T.V. Presenter Laila Khalfan Humaid Al Maqbali along with Mr. Vijay Samyani, Founder and managing director of Concept Brands Group.
Bringing together a wide range of retailers from all around the world. Ramadan Big Bazaar will be offering a wide range of products including garments, leather accessories, jewelry, perfumes, eyewear, watches, footwear, home décor, cosmetics, beauty products, food items, toys, travel and tourism products and much more.
Other attractions at the bazaar include a massive Food Court hosting a diverse variety of foods from several major F&B outlets Including, Tim Hortons, Mr. Chaat, Kulfilicious & more. The exhibition also features An Arabic themed Ramadan Majlis and an exclusive Henna Majlis. Ramadan Big Bazaar's very own 'Kids Play Area' will keep your kids completely engaged while you shop.
This year, Ramadan Big Bazaar will also feature the crowed beloved Concept Big Brands Carnival, The largest of its kind shopping exhibition with over 300+ international brands including Calvin Klein, Hugo Boss, Tommy Hilfiger, Aldo, Aigner & more.
Expecting a footfall of over 300,000 visitors over 12 days, Ramadan Big Bazaar will be open to customers from 31st may to 11th June from 3pm to 1am. Entry to the exhibition is free.
Ramadan Big Bazaar is also a great opportunity for exhibitors to showcase their collection to the right target audience, launch a new product line, create awareness about new product and much more.