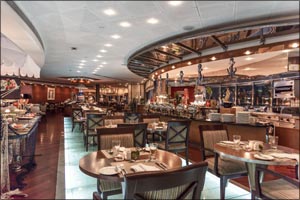 Dubai, UAE, May 24, 2018: The RODA Al Murooj's preparation for the Holy Month of Ramadan gained much appreciation from a group of food connoisseurs who attended a pre-Ramadan Iftar buffet hosted by the hotel as preview to its wide-ranging arrangements for the holy month of Ramadan.
The guests, including Media, Bloggers and VIPs, were much impressed as they savored a traditional and truly lavish Iftar buffet complemented with live cooking stations, Arabic beverages and desserts in the enchanted setting of Pergolas restaurant.
General Manager of the RODA Al Murooj, Nael Elwaary, said, "This special Ramadan gathering was organized as part of our unceasing efforts to offer best services to our guests. Our aim was to have an honest feedback from our brand ambassadors before serving the lavish Iftar buffet to our guests in Ramadan. I am glad they liked the culinary preparations of our chefs as well as other arrangements and shared their heartfelt opinion."
Awaiting guests this Ramadan at the RODA Al Murooj is essence of true Emirati hospitality in the relaxed setting of the Pergolas restaurant. Diners will be able to enjoy the finest Arabic cuisine with live cooking stations as well as a variety of international dishes.
Iftar at Pergolas
Bring your friends and family to enjoy an extensive Iftar buffet for AED 195 including Ramadan Juices.
Suhoor in Layali Al Murooj tent
Enjoy special a la carte Ramadan delights with live Oud music along with large screens to spend your long Ramadan nights in style.