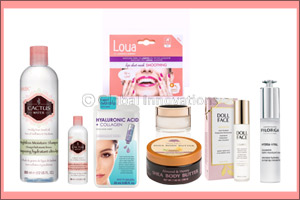 Skin & Hair Boosters for Ultimate Hydration
Dubai, UAE, May 01, 2018: With Ramadan just around the corner and with temperatures expected to rise, it's time to start paying close attention to your hair and skincare routine to avoid feeling and looking like the Sahara Desert.
We have rounded up some moisturizing must-haves that will keep you hydrated from head to toe throughout the Holy Month and the long summer months to come.
Filorga Hydra Hyal Serum (AED 270)
The product offers the efficacy of a skincare formula highly concentrated in hyaluronic acid to intensely replenish the skin. 4 types of hyaluronic acid deeply penetrate the skin, instantly hydrating, smoothing and plumping it providing a long-lasting youth-enhancing effect. Available at leading pharmacies including Bin Sina Pharmacies, Boots Pharmacies, Supercare Pharmacies, Planet Pharmacies, Health First Pharmacies and Community Pharmacies.
Loua Lips Smoothing Sheet Mask @ Glambeaute.co (AED 12.60)
Thanks to the incredible properties of Vitamin E, lips are protected and redefined in just 20 minutes! The perfect quick fix to nourish your lips!
Doll Face Nourish Anti-Oxidant Protective Moisturizer @ Glambeaute.com (AED 99.75)
Empower your skin with this effective daily diva defense. Free-radical fighting mega anti-oxidants provide all-day protective hydration. Helps protect the skin against premature aging signs. Skin will look super hydrated, healthy, enriched & protected.
Tree Hut Shea Butter Almond & Honey @Glambeaute.com (AED 76.65)
Experience Tree Hut Body Butter with the sweet scent of Almond and Honey. Real Honey and Sweet Almond Oil help to naturally condition unhealthy and neglected skin, helping it to retain its natural sheen. This extra thick body butter, infused with Certified Organic Shea Butter, Cocoa Butter, real Honey, Sweet Almond Extracts and Safflower Seed Oil, is designed to seal in moisture, leaving skin soft and rejuvenated.
HASK Cactus Water Weightless Moisture Shampoo & Conditioner (AED 29 each)
On the outside it may be prickly, but on the inside the cactus plant is known for its ability to retain large amounts of water and nutrients. HASK has bottled up this hair holy grail with prickly pear seed oil to create an ultra-nourishing and hydrating collection that quenches thirty strands and keeps hair hydrated all day without excess oil or build-up. Available at leading supermarkets and hypermarkets including Carrefour and online at www.glambeaute.com
SHOW Beauty Pure Moisture Treatment Mask (AED 215)
Restore your hair to its natural smoothness with this ultra-luxurious treatment. The incredibly rich mask offers intensive hydration and smoothing action, resulting in visibly healthy and lustrous locks. Perfect for weekly use on thirsty strands. SHOW Beauty products are available at Harvey Nichols Dubai, Bloomingdales Dubai Mall and online at www.beautysolutions-me.com
Skin Republic Hyaluronic Acid + Collagen (AED 27)
This super hydrating youth activating sheet mask features a powerful anti-aging formulation to target fine lines, wrinkles and loss of firmness. Hyaluronic Acid provides long lasting hydration and helps promote natural collagen levels for lifted, smooth and more youthful looking skin. All Skin Republic masks are available at Harvey Nichols, Bloomingdales, Areej, Lifestyle, leading pharmacies, online at Souq.com, Noon.com and Sprii.com as well as in supermarkets including Spinneys and Waitrose.
Skinade
We love this natural peach and mangosteen flavoured drink for its hydrating abilities! Having a bottle of skinade daily during Ramadan and the summer months ensures your skin remains properly hydrated. During Ramadan, instead of waiting to have the drink after your fast, it might even be more beneficial to get your dose of the drink in the early morning before fasting since the B Vitamin Complex in skinade help boost your energy naturally and keep you from feeling tired throughout the day. Skinade prices start from AED 800 for a 30-day supply and are available from Iwona Specialty Clinic, Sansaya Cosmetic Surgery and Dental Clinic, Euromed Medical Center, Rose Arbaji, So Spa – Sofitel, The Palm and Kalm Holistic Beauty.