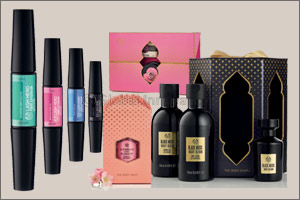 Dubai, UAE, May 01, 2018: This year's stunning new line-up of Ramadan gifts from The Body Shop is quite literally the gift collection that keeps on giving. Every Ramadan gift you buy from The Body Shop's seasonal collections also helps to enlighten the life of a refugee child by helping them to find peace through play.
Support the Peace Play Project
In the true Ramadan spirit of spreading joy and doing good deeds, The Body Shop has partnered up with International Alert in order to raise money for the Peace Play Project in Lebanon. The Peace Play Project helps children affected by conflict to find peace through play. So shine the brightest light into your loved ones' lives and surprise them at Eidstarlit festivities with a thoughtful gift from The Body Shop.
Through play, these children can explore and express difficult emotions, make sense of their experiences and learn how to interact more positively with their peers as well as the adults in their lives. These therapeutic activities will take place in safe-haven community centres, away from the weight and pressures they face day to day.
The Brightest Ramadan Gift Ideas
With sublime new fragrances, glamorous make-up must-haves and beautifully packaged gift sets, The Body Shop has everything to make the Eidfestivities extra-special for everyone in your life.
Exquisite Fragrances
Sensual & Floral Black Musk Night Bloom
Introducing a captivating new addition to the fiercely sensual, oriental Black Musk range. NEW intensely floral Black Musk Night Bloom.
Inspired by flowers that open at night to reveal their secret, intoxicating scents, Black Musk Night Bloom takes the brand's signature Black Musk fragrance to a whole new level that's deeper, darker, utterly tempting and playfully tantalising. With notes of creamy, spicy ylangylangand heliotrope blended with pineapple, red berries, smoky patchouli and warm, fierce black musk, this opulent fragrance makes a wonderful gift for someone special, or an exotic, special-occasion scent just for you.
Sweet & Fruity Japanese Cherry Blossom Strawberry Kiss
Treat yourself or someone special to this delicious-smelling new fragrance.
Infused with notes of Japanese cherry blossoms and the refreshing juicy scent of strawberries and peony amber, it's The Body Shop's sweetest, fruitiest scent yet.
Enlightening Gifts & Bright Ideas
Whether you're looking to give a thoughtful token or completely spoil your special someone, The Body Shop has a wide range of luxurious Ramadan gifts to choose from.