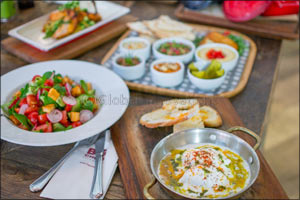 Dubai, United Arab Emirates, 24 April 2018: The Big Chefs restaurants at The Beach and Boxpark will serve up a wide variety of delicacies as part of a sumptuous Turkish set menu during Iftar throughout the Holy Month of Ramadan.
Known as the go-to restaurant for families that prefer a multi-cuisine offering, Big Chefs invites Dubai's food enthusiasts to share memorable gourmet experiences with their loved ones to mark the Holy Month.
Guests will be welcomed with dates and a homemade fruit sherbet, a traditional drink used to break the fast. On the table, they will find a warm soup along with a selection of cold dips to enjoy with the restaurant's homemade focaccia bread. The main course will include a choice of seven different dishes, with one vegetarian option. Delicious desserts will help diners wrap up the celebratory meal.
Date: Throughout Ramadan
Time: Iftar until 1am
Price: AED115 (VAT included)