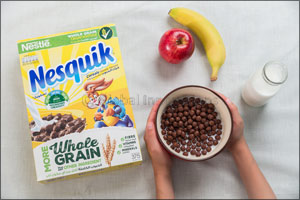 Dubai, UAE, June 11, 2017: Suhoor, an important meal during the fasting period, provides strength and vitality to the body as it is the primary source of energy before fasting for 8-10 hours a day.
At Suhoor it is crucial to include food items from at least three of the four food groups (Whole Grain Bread & Cereals, Meat & Legumes, Fruits and Vegetables, Milk & Dairy Products). An example of a balanced and nourishing Suhoor can be a bowl of whole grain breakfast cereals with milk and a fruit or a glass of milk with a cheese and sliced vegetables sandwich and a fruit for example.
Whole grains as a rich source of fiber, take longer time to digest, sustaining energy levels longer for the fasting day ahead. Whole grains not only are high in fiber, but they are also rich in antioxidants, vitamins and minerals such as Iron and Magnesium which all strengthen the immune system and help release energy to the body.
Research shows that consuming whole grains can have health benefits linked to the greater likelihood of having a healthy body weight and reduced risk of some diseases such as heart disease and type 2 Diabetes*. Essential for children too, whole grains when offered as part of their Suhoor improves their alertness and concentration and help them kick-start their metabolism for the school day ahead.
Therefore it is recommended to consume 48grams of whole grains daily within a healthy balanced diet. This recommended quantity can be consumed evenly as part of the main meals in Ramadan: Iftar, evening meal and Suhoor.
All Nestlé Breakfast Cereals such as NESQUIK®, FITNESS®, CHEERIOS® and CHOCAPIC® have whole grain as the number one ingredient, and provide a minimum of 8g per serve, which will definitely help you last to your next meal!
Hoping you enjoy a healthy fasting period, keeping in mind to also include healthy food choices such as dates, fruits and nuts for a balanced and nutritious diet throughout Ramadan.