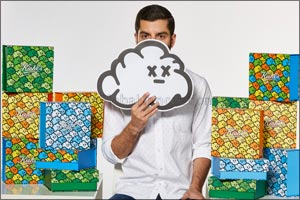 Proceeds from this creative collaboration will benefit the Al Jalila Foundation throughout the Gifting Season
Dubai, UAE, June 6, 2017: It's that time of year, when the spirit of generosity comes into focus once more! Kiehl's commemorates this special season with the launch of its unique Kiehl's x Myneandyours Limited Edition Collaboration, available exclusively for sale this EID.
As part of the 'Kiehl's Gives' program, the collaboration reflects an ongoing global initiative to promote philanthropy around the world. In the Middle East, for every purchase of Kiehl's x Myneandyours Limited Edition,100% of net sales (for a maximum of 75,000 AED), will benefit the Al Jalila Foundation a global philanthropic group that works with strategic partners to help children with developmental disorders and special needs.Kiehl's Middle East is proud to support the Foundation for the second year running.
This year's Limited Edition is a creative and exclusive partnership which continues Kiehl's long-standing tradition of collaborations with artists around the world.
For this project, Kiehl's Middle East was delighted to partner up with Dubai-based graphic artist Myneandyours, or Marwan Shakarchi, who is well-known for his signature use of fluffy clouds -. His graphic art brings a dynamic, bold and whimsical touch to labels and boxes for some of Kiehl's best sellers in this year's
Limited Edition collection. The Limited Edition best sellers include Kiehl's Calendula Herbal Extract Alcohol-Free Toner, Kiehl's Creamy Eye Treatment with Avocado, Kiehl's Crème de Corps and Kiehl's Midnight Recovery Concentrate. The artist's work is both a tribute to Kiehl's unique blend of natural ingredients and scientific innovation, and an expression of his passion in giving back.
The partnership between Kiehl's Middle East and Myneandyours explores a continuing narrative, inspired by the concept of the 'Materia Medica'•, embodied through the woman who finds healing in nature. It focuses on the Calendula flower, a symbol of her spirit. If the Calendula wilts, and its petals are carried by the wind, her spirit is carried with them. The mysterious magic potion revives the Calendula, and in turn, her spirit. In this way, the spirit of healing is reflected in Kiehl's, giving hope through dermatological remedies.
Kiehl's draws on its body of knowledge and gives its family of users a new lease of life, injecting vitality into the human spirit and helping to remedy the age-old concerns of those with imperfect skin. Thus, the Kiehl'sxMyneandyours Limited Editioncollaboration gives back in two important ways: through remedial means and directly to the community by charitable support of the Al Jalila Foundation.
The Kiehl's x Myneandyours Limited Edition collaboration designs on the products and accessories will be available for a limited period only in the below Kiehl's outlets in the UAE from June 15th till stocks last.
Kiehl's Mirdif City Center
Kiehl's Dubai Mall
Kiehl's, Harvey Nichols, Mall of the Emirates
Kiehl's, Dubai Festival City
In addition to Kiehl's individual offerings, customers will have the option of personalizing their gifting with custom gift-wrapping service. Add a little Myneandyours flair to the spirit of giving and healing this season.
*The Latin medical term for the body of collected knowledge about the therapeutic properties of any substance used for healing.
Prices:
Creme de Corps Soy Milk & Honey Whipped Body Butter, 226g – 250 AED
Calendula Herbal Extract Alcohol-Free Toner, 250mL – 210 AED
Creamy Eye Treatment with Avocado, 28g – 205 AED
Midnight Recovery Concentrate, 50mL – 286 AED