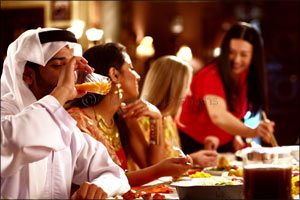 Dubai, UAE, June 5, 2017: Throughout the Holy Month, Talabat is recognizing the ways in which Ramadan unites us all. A melting pot of cultures and cuisines, there is no better time to celebrate the diversity of the UAE than during Ramadan.
Join Talabat in celebrating this diversity through the range of Iftar offerings and delivery deals it is offering throughout this month.
#IftarWithTalabat Offerings:
In the spirit of giving, Talabat is encouraging people to donate to those in need this Holy Month. Collaborating with select restaurant partners, consumers will have the chance to donate AED 10 to the Emirates Red Crescent when ordering from special set Iftar menus on Talabat which will include starters, salad, a main course and delicious desserts.
A diverse range of restaurant partners will offer AED 40 Iftar and AED 50 Iftar meal options throughout the month, which will see AED 10 go to Emirates Red Crescent.
AED 40 Iftar Meals:
AED 50 Iftar Meals:
1. Mandilicious
2. Al Dayaa Lebanese Restaurant
3. Al Badyah Restaurant & Grills
1. Tawasy Restaurant & Grill
2. The Kebab Shop
3. Najmat Lahore
4. Koshari Point
5. The Village Grill
6. Moti Mahal
7. Chandini Chowk
8. Pappa Crepe
Top 10 Delivery Deals this Ramadan
In addition to these specially curated Iftar offerings, Talabat has rounded up their Top 10 delivery deals in Dubai for the month of Ramadan. Catering to every taste bud and wallet, here's Talabat's top ten round-up, featuring more delivery Iftars than you'll be able to work your way through during the month of Ramadan…
NKD Pizza: Throughout Ramadan, NKD Pizza, Dubai's honest and nutritious pizza place, will offer two medium pizzas for 50 AED. This deal is available from all three UAE NKD branches; Dubai Marina, Business Bay and Motor City.
Wok n' Roll: Asian fusion restaurant Wok n' Roll will offer a special deal throughout Ramadan; with 10 taster items for 40 AED including two soft drinks or 25 pieces for 85 AED with four soft drinks included.
Biriyani Pot: Biryani Pot will offer a special Iftar combo meal including a starter, main course, dessert and beverages, all for 55 AED.
Chez Michel: Offering the perfect way to break your fast, Lebanese and Middle Eastern inspired restaurant Chez Michel will offer a Ramadan Box for 39 AED including traditional fare such as dates, Arabic bread and a main meal.
Zaiqa: With nine Suhoor menu offerings to choose from, starting at 29 AED up to the 'King Mix' Suhoor at 79 AED, this is a one stop spot for late night feasts.
Najmat Al Badyah: Enjoy 20% off delicious Arabic cuisine when you order Iftar with Talabat throughout the Holy Month.
Canadian Pizza: Order any medium pizza with a salad + 2 soft drinks for 49 AED. Operating from 11am right up until 1am, this is an alternative Iftar offering.
Lokmat Baladna: Iftar and Suhoor offering; dates, soup, salad, daily dish for 40 AED, open from 5pm to 3.30am to cater to Iftar and Suhoor cravings.
Ayam Elezz: Enjoy a main course, salad and soup for only 52 AED throughout the Holy Month.
Gazebo: One of Dubai's finest Indian restaurants, located in DIFC, DIC and Business Bay, Gazebo will be open from 12pm to late, making it the perfect option for lunches and Iftars alike.