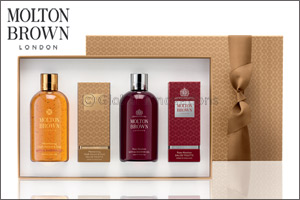 Dubai, UAE, June 4, 2017: Molton Brown, London's fragrance experts, invites you to celebrate the holy month of Ramadan with their new Deeply Decadent Fragrance Layering Gift. Created especially for this sacred occasion, the gift set features two much-coveted, richly complementary fragrance rituals; Mesmerising Oudh Accord & Gold and Rosa Absolute.
Launching their new Gift Concierge service in their Middle Eastern stores for the first time, Molton Brown is the ultimate gift destination this giving season for a truly bespoke gesture.
Reflecting the sanctified beauty of Ramadan, the brand's Fragrance Consultants will help you hand pick your gifts, which will then be wrapped in uniquely fragranced tissue paper and encased in a Molton Brown signature box, adorned with the Royal Arms. The final embellishments of a hand-tied knot and gift tag will add a luxurious, personal touch for friends and family.
Molton Brown sincerely wishes you and your loved ones a blessed and prosperous Eid Mubarak.
Mesmerising Oudh Accord & Gold
Explore the steamy depths of a spiced forest with opulent oudh accord, gold leaf and cinnamon leaf oil.
"Mesmerising Oudh Accord & Gold is a refined fragrance with dark complexity.Top notes open the fragrance on a spicy, citrusy burst of bergamot, black pepper, nutmeg and cinnamon leaf oil for a modern hook. An aromatic floral heart of rose, elemi oil and black tea on a soft petal touch contrasts with its strong dark base. Constructed around oudh's natural leathery notes and sensualized by golden honey and tobacco fumes, the base is intertwined with woody vetiver, cedarwood and moss, adding refinement with a hint of mysterious saffron." Philippe Bousseton, Master Perfumer, Takasago
Rosa Absolute
Devote your senses to an intoxicating secret with Italian rose oil, blackcurrant and geranium.
"Rosa Absolute holds the secrets of a darkly luxuriant red rose. Blackcurrant, raspberry and strawberry evoke a rich magenta shade; spiced up by red berries, cinnamon and clove. Intoxicating rose and violet leaf unfold into an accord of cedarwood, patchouli and sandalwood. The potency of patchouli and labdanum give a long-lasting finish. Intensely alluring and full of opulence." Nathalie Koobus, Master Perfumer, Fragrances Essentielles
THE DEEPLY DECADENT FRAGRANCE LAYERING GIFT
Heady. Precious. Dramatic.
Ramadan gift set: 599 AED – 599 QAR – 599 SAR
During the full month of Ramadan, across all our stores mentioned below, Molton Brown customers will be receiving a gold leather pouch including three 30 mls with every purchase of 499 AED / QAR / SAR