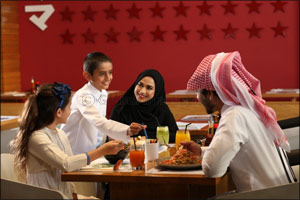 A soulful spread of goodness awaits!
Dubai, UAE, June 3, 2017: wagamama's special plans for Ramadan,help guests celebrate a joyous Iftar with friends and family. Whether one eats in the restaurant or take the delicious food home, sharingwagamama's soulful food is sure to rejuvenate and bring everyone together.
The Iftarfeastingset menu,made up of wagamama signature dishes, is perfect for breaking the day's fast, with something for everyone to enjoy. wagamama's dishes are light, nutritious and packed with flavour, made to order from the freshest ingredients. Each generous plate is ideal for sharing with family and friends. Feast on the aromas coming from each dish and relish the vibrant colours and spicy flavours.
The feasting menu is available for between four and ten guests and costsAED 89 per person. Try gyoza, light little pastries filled with poultry, prawns or vegetables and served steamed or fried to your taste.
The main courses includes the popular yasaiyaki soba (soba noodles with mushroom, egg, peppers, beansprouts and onions, garnished with fried shallots, pickled ginger and sesame seeds); prawn raisukaree (prawns stir-fried ina mild coconut and citrus curry, with vegetables and sticky white rice); and chicken and prawn cha han donburi (stir-fried brown rice with egg and vegetables, served with Japanese pickles).
The side dishes are a symphony of colour and flavour. Try garlicky edamame beans, spicy chillisquid, crispy chicken or tasty mushroom onigiri.
Guests can make up their own feasting menu, by choosing from the other flavour-packed dishes on the menu. Noodles in delicious vegetable and meat-rich soups are full of nutrients and gentle on digestion. All the dishes are prepared with care and love to make sure they taste, smell and look delicious.
A sip of miso soup is a positive way to break the fast or try one of the exciting rehydrating, vitamin-packed juices, made from freshly squeezed, pressed and pulped fruits and vegetables. Try blueberry spice or super green to re-energise your taste buds and lift your energy levels.
Guests who want to feast at home can order their meal for delivery. Nothing could be easier and as the dishes are all freshly made to order, they will taste just as good at home. The restaurant and takeaway services are open, throughout the Ramadan period as below.
Delivery and Takeaway across all wagamama outlets – 12 am to 12 midnight, except Golden Mile, Palm Jumeirah, which is from 11 am to 12 midnight.
Dine In is open from Iftar to 12 am at Outlets in Palm Jumeirah and the Greens, while Al Fattan Tower, JBR (Licensed) and Crowne Plaza (Licensed) are open from 12 pm to 12 am.
Feed one's body and soul at wagamam.