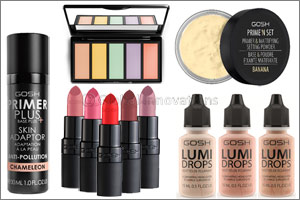 Primer Plus+ Skin Adaptor
Primer Plus+ Skin Adaptor has a unique multi functional colour release primer that enhances any skin tone with a healthy, even toned glow.
Colour release & primer
Smoothens and hydrates
Refreshed healthy look
Rejuvenates and protects
Contains CityGuard+ for anti pollution protection
With Oak Extract
Perfume and paraben free
Colour Corrector Kit
Colour Corrector kit contains five blendable colour correcting shades to correct and cover small imperfections.
5in1 correcting shades
High coverage
Counteract discolouration
Eliminates small imperfections
Easy to blend
Long wearing
Creamy formula glides on for an ultra-smooth & even application
Perfume & paraben free
Prime N' Set Powder
Prime N' Set is a 2in1: Primer and setting powder. The silky loose translucent powder with just a whisper of yellow colour creates a flawless, matte finish and an airbrushed look. Suits almost anyone with a warmer skin tone.
Banana
Eliminates redness and pink undertones
Cover dark circles
Minimize pores and fine lines
Matt finish
Mattifying shine control
Perfume and paraben free
Velvet Touch Lipstick- Matt
The creamy texture ensures an easy outlined application and deliver an even long lasting result with intense, pure matt color pay-off.
Matt finish
Highly pigmentation
Long Lasting
Natural waxes keep lips moist and soothe
Hyaluronic acid keeps lips hydrated and smooth
Perfume and Paraben Free
Lumi Drops
Lumi Drops is a lightweight liquid highlighter to accentuate your best pictures. Formulated with light reflecting pigments that illuminate the face and leaves the skin with a natural glow.
Perfect for highlighting, strobing and defining
Refreshed luminosity
Shimmery finish
Easy to mix and blend
Can be applied under, on top of or mixed with foundation, day cream and body lotion
Perfume and paraben free
Primer Plus+ Skin Adaptor
Primer Plus+ Skin Adaptor has a unique multi functional colour release primer that enhances any skin tone with a healthy, even toned glow.
Colour release & primer
Smoothens and hydrates
Refreshed healthy look
Rejuvenates and protects
Contains CityGuard+ for anti pollution protection
With Oak Extract
Perfume and paraben free