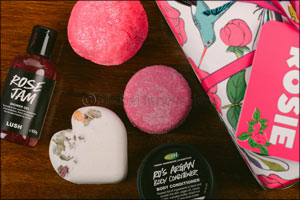 With the Holy Month of Ramadan starting soon, gifting is on all of our minds. A collection inspired by tones of Fair Trade Sandalwood Oil, enjoy the time of togetherness with presents guaranteed to delight friends and loved ones.
SANDALWOOD TRAIL
shampoo bar - Price AED 80
Made using Fair Trade organic Sandalwood Oil, chunks of Fair Trade organic cocoa butter, this shampoo bar hydrates and softens the hair. The bar also has rosewood which balances and cares for the scalp, while a touch of cleansing lemongrass oil offers a shine and a deliciously sharp note to an entoxicating sandalwood heart. Vegan
SANDALWOOD TRAIL
facial scrub - Price AED 98 for 45g
Created with rich Fair Trade Sandalwood Oil from a sustainable Aboriginal harvesting group based in Kalgoorlie in Western Australia, along with bamboo stem, the scrub exfoliates the skin. Papaya juice brightens and refreshes the complexion, and the blend of rose hip oil and Moroccan argan oil rejuvenate and hydrate for a radiant and lasting glow. Vegan
SANDALWOOD TRAIL
multi-purpose cream - Price AED 164 for 45g
Fair Trade Sandalwood oil, fresh cucumbers and argan oil come together to create an intoxicating, versatile cream that cools and softens the skin. Vegan
ZEN RING
Soap - Price AED 64 for 100g
This deeply meditative blend of oudh, sandalwood and patchouli is a tonic to mind and body. Exceptionally difficult to find, dark, woody oudh oil is worth more than its weight in gold and gives exotic depth. Spicy patchouli, sensual jasmine and smoky sandalwood blend to create an aromatic lather and bring a little zen to your bath time.
GOLDEN HANDSHAKE
hot hand Mask - Price AED 30 for 100g
Feeling all washed up? This pampering, avocado, argan and castor oil hot hand mask is just the job for hardworking hands. Full of fresh cupuacu and murumuru butters to hydrate every nook and cranny and super-soak your paws.
WONDERFUL YOU
gift box - Price AED 620
Show someone how wonderful you think they are with this collection of indulgent products for the shower and body in a bright and beautiful box. This treasure trove of goodies will leave your lucky recipient feeling and smelling wonderful all over. All the products inside LUSHious are for the shower and body, so no tub is required to enjoy this one.
ROSIE
gift box - Price AED 250
Fill your noses with the beautiful scent of roses. Four sophisticated and beautifying treats for your shower and bath. It's a bathing showcase with a bubble bar, a ballistic and a bubbleroon plus a body conditioner to bask in, too. Now that's what we call blooming blissful bathing. If you love true rose scents, then you need Rosie in your life.