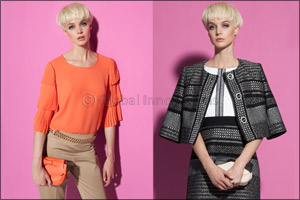 Dubai, UAE, May 25, 2017: For the summer a new dress code: the classics with a twist and other unconventional accents... Original proportions, tried and tasteful combinations ranging between the chic and the casual, masculine and feminine, sporty and urban... With Weill the formal adopts a cheerful attitude with highly contrasted alliances and luminous themes, a spruce Parisian style determined to interpret dress codes freely.
Wardrobes Galore
When it comes to appearances, a variety of wardrobes expresses as many different moods from morning to evening. A classical disposition, an 80s impulse, or a flourish of haute couture... To each one her own wardrobe or wardrobes, a preferred elegance allowing unlimited possibilities: the focus may be on the look or on playful improvisation, everything is permissible, as long as you do as you please.
Chic Graphics
A city of energy, different styles and a variety of silhouettes: the timeless algebra of tennis stripes, blazers, stove-pipe slacks, long sleeveless jackets, exciting striped tops and loose-fitting poplin... Out-sized white polka dots on black, a variety of geometric patterns for small pieces in taffeta, poncho tunics, and blouse dresses... Bold 80s-inspired lines, trios of ample beige/blue/black or beige/coral red/black stripes and asymmetrical pleated combinations... A sporty and glamorous association of chain motifs, silk scarves and light jersey... And everywhere inventive mix-and-matches: trench coats and raincoats with open embroidery, light nylon and taffeta, striped smocks with golden braids, loose-knitted tweed...
Tropical Flames
A luxuriant nature and subtle exotic tones: the contemporary vigour and fresh greenery of Monstera leaves flirt with strict black and white patterns on ample slacks, pleated Charleston dresses, small coats or large fluid skirts, a skilful combination of stretch jersey, satin, silk, and jacquard prints... Flamboyant flowers and prickly pears take centre stage and combine with denim, jersey or fringed suede, 70s tones with touches of orange, pink and chambray... An anthology of pink and the vibrant delicacy of silk, satin ruffs, and viscose knitwear... a gracious climate of cheerful abandon with loosefitting men's shirts... And everywhere, a selection of motifs and contrasting tones expresses a modern tempo.
Surprise Cocktails
A happy hour under the sign of informal charm, a festive profusion of shantung pastel colours in single tones or blocks of colours, fishnet embroidered with laser-cut flowers, pleated chiffon, lace adorned with butterflies, polka dots re-embroidered over organza, the shimmer of sequins, whimsical touches of turquoise... all of this deployed on dresses, coats with 3/4-length sleeves, overcoats, light tunics, and flowing trousers... with the same spirit of lightness.
Hints and Flashes
An eloquence of accessories, a string of matching necklaces to complement all wardrobes, handbags providing a cheerful touch with oversized bows, glinting chains and sharp contrasts, coquettish watermelon hues, lemon pulp or graphic black and white optical effects... all of these accessories lightheartedly challenge tedium and uniformity.