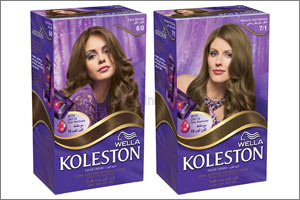 Now, with Wella Koleston #RevealyourColor #Revealyourlight
As Ramadan begins with a month-long theme of generosity, austerity and goodwill, its culmination lies in the joyous and special occasion that is Eid. When Wella Koleston, the leader in color innovation and expertise, becomes a part of your Eid beauty preparations, you reveal your color, reveal your light.
So get ready for your time to shine!
Wella Koleston's intense color result transforms you not just on the outside but also within, as a true reflection of your inner confidence and passion. With Koleston, you can be sure of a vivid and water-resistant color, thanks to its advanced color cream, which penetrates the core of each hair strand with intense color pigments. The result is a long-lasting, water-resistant color that stays vibrant and even-toned, with no brassy effects. What's more, Wella Koleston moisturizes as it colors, leading to luminous, ultra shiny hair that is radiant, polished and bright with color.
Why is Wella Koleston the perfect choice? 1) You can always be sure of its authentic, rich color, designed by Wella experts. 2) It provides 100% grey coverage, and 3) You can choose from a wide range of intense shades.
Wella's Koleston Kit offers three conditioners. The first of these is designed for use immediately after coloring your hair. Apply the second conditioner after 15 days in order to reactivate your color. Finally, the 30-day conditioner takes your color further, nourishing your hair and maintaining its brilliance and shine throughout your entire color cycle.
The Koleston Kit has a simple applicator bottle that requires just two steps. All you have to do is squeeze the color cream into the developer bottle and shake! Enjoy its easy application and just follow the instructions for the time recommendations. Great for women on-the-go, this is an easy, fuss-free routine.
Wella Koleston's Semi-Kit is for those who already know which shade they like, and have time to spend on a brush-and-bowl beauty technique. The Semi-kit provides the same intense color, shine and perfect coverage, but at your own pace. You can manage your own color, mixing and amounts, deciding whether you want a full head of color and coverage, or just to touch up your roots. Just pour out what you need, keeping aside the rest to re-use for your next touch-up.
Whichever kit you choose to look your best for Eid celebrations this year, Wella Koleston helps you create a beautiful impression for the occasion. For hair that's vibrant and luminous, nourished and gleaming, Wella Koleston helps you #RevealyourColor, #Revealyourlight this Eid.