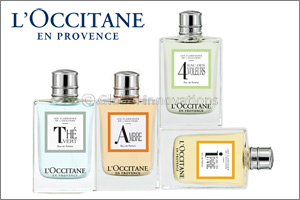 Dubai, UAE, May 16: 2017: There are fragrances that you wear from time to time, to match your mood. And then there are those you cannot be without. Once you've found your fragrance, it's yours forever. Its scent lingers in your wake, like a fragrant shadow. If it were to disappear, you would never be able to replace it. To celebrate these unforgettable scents, L'OCCITANE celebrates its legendary fragrances in a new collection: Les Classiques.
THE FRAGRANCES YOU COULD NOT FIND CAN NOW BE FOUND IN A COLLECTION
Some L'OCCITANE fragrances have become collector items and sell on the Internet for staggering prices. Lovers of these fragrances express their regret – and hope. 'I've lost my signature scent.' 'Help me, I can't find it anymore!' The fact that so many people are so attached to certain fragrances, for which there are no substitutes, inspired L'OCCITANE to re-release some of its emblematic scents. Les Classiques collection brings olfactory memories from the past back to the present for all those who love them.
The fragrant compositions of L'OCCITANE have been timeless, true to the ingredients they feature. They capture the character and seasons of the raw material. They recall the landscapes and rivers of Provence. They soak up the climates of southern France – their rawness, greenness or mineral tones, always dazzlingly beautiful.
NEW THÉ VERT: THE RETURN OF A MYTHIC SPARKLING EAU DE TOILETTE
By a warm summer afternoon in Provence, under the cool shade of a patio where water trickles from a fountain, emanations of green tea and citrus fruits subtly mix together. True reminiscence of the Provence gentle way of life, subtle and sensual, this calming fragrance refreshes with its sparkling citrus notes.
FAMILY: Citrus
HEAD NOTES: Bigarade Essence, Orange Essence, Cardamom Essence
HEART NOTES: Green Tea Extract, Maté Absolu, Nutmeg Essence
BASE NOTES: Musk, White wood, Benjoin Resinoïd
EAU DES 4 VOLEURS
Born in 1991, this fragrance recalls a legend told in Marseille about four thieves who also seemed to have magical abilities. A cocoon of woody and aromatic notes, it is composed around ingredients dear to L'OCCITANE, found on the paths from the spice route to the orchards of Provence.
FAMILY: Woody aromatic
DESIGNED FOR: Men
HEART NOTES: Origan, Girofle, Lavandin
BASE NOTES: Mousse, Patchouli, Bois blanc
HEAD NOTES: Petitgrain, Bitter Orange, Bergamot, Pine
OLFACTORY IMPRESSIONS
Eau des 4 Voleurs opens with a burst of explosive and resinous notes of bergamot, petitgrain and pine, before giving way to a heart that stirs memories and swirls with the scent of spices and aromatic plants dried in the sun. Long, lingering base notes of lavender then settle into wood and patchouli.
EAU D'IPARIE
Composed in 2001, this velvety oriental seems to have come straight from spice-filled paths crossing through an imaginary desert…It is recounted in the notebooks of a traveller, who would glean the scents of Iparie as he followed in the tracks of caravans of merchants setting out on their journey.
FAMILY: Oriental
DESIGNED FOR: Men & Women
HEAD NOTES: Pink Pepper, Peony
HEART NOTES: Rose, Cyclamen, Heliotropin
BASE NOTES: Patchouli, Myrrh, Frankincense, Moss, Musk
OLFACTORY IMPRESSIONS
Barely has it touched the skin than it's clear that Eau d'Iparie is a fragrance with staying power – its woody notes accompanied by a dash of rose, peony and pink pepper. Its more masculine, old-fashioned facet harmonizes perfectly with the earthy opulence of patchouli and myrrh. This superb oriental has both passion and restraint, a velvety feel and an almost-gourmand quality, as myrrh, musk and frankincense come to rest on a bed of moss.
AMBRE
As night slowly falls over the Maures mountains, cistus shrubs fill the air with their delicate amber fragrance. Like the scent of earth heated by the sun, the enveloping shadow of cistus releases oriental, amber and woody notes.
FAMILY: Oriental & woody
DESIGNED FOR: Men & Women
HEAD NOTES: Bergamot, Freesia, crushed leaves
HEART NOTES: Cistus labdanum, Plum & Tonka Bean
BASE NOTES: Amber, Vanilla, Musk, Cedar, Vetiver, Patchouli

OLFACTORY IMPRESSIONS
An initial sensation of freshness, as bergamot mingles with white flowers, soon gives way to sweet notes of tobacco and tonka bean. The amber heart is willingly dominated by the silky scent of labdanum, which takes us high into the Maures mountains and red soil where Cistus ladanifer blooms. This prince of amber notes, with hints of vanilla seed and maple syrup, reveals lingering musky and animal undertones as it dries down into woody notes of cedar.
PRICE LIST:
NEW THE VERT EDT Classiques 75ml – AED299, SR299, QAR299, KD23.250, BD31.000, JD54, LBP129,000, USD85.53
AMBRE EDP Classiques 75ml – AED299, SR299, QAR299, KD23.250, BD31.000, JD54, LBP129,000, USD85.53
EAU D'IPARIE EDP Classiques 75ml – AED299, SR299, QAR299, KD23.250, BD31.000, JD54, LBP129,000, USD85.53
EAU 4 VOLEURS EDT Classiques 75ml – AED299, SR299, QAR299, KD23.250, BD31.000, JD54, LBP129,000, USD85.53